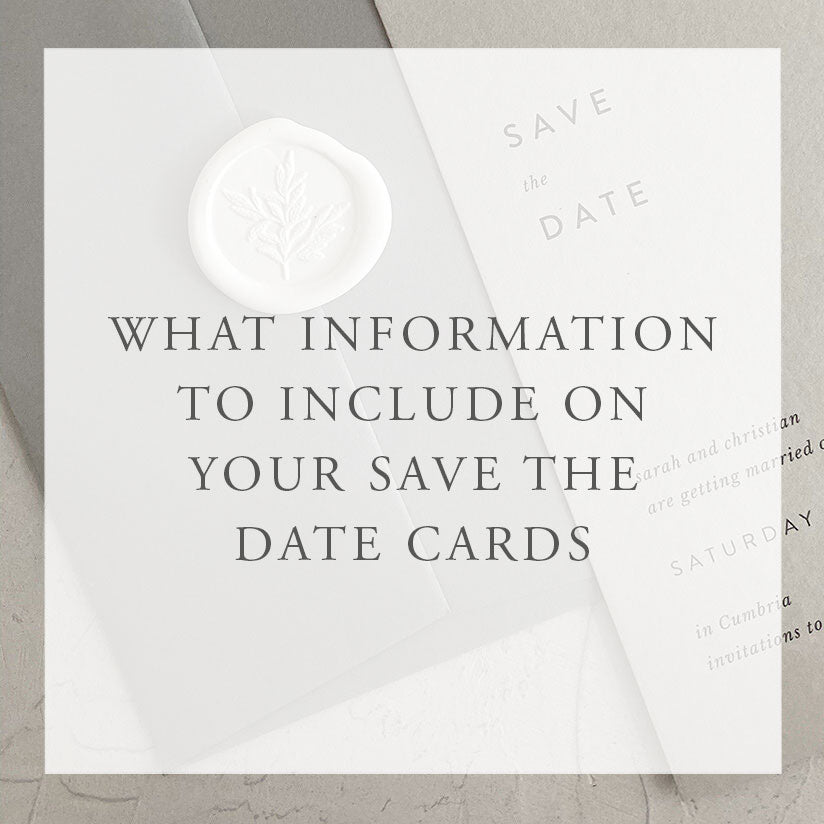 What Information to Include on Your Save the Date Cards
Wedding save the date cards are the first item of wedding stationery you will send out to your guests. You can introduce guests to the style and tone of the wedding through the design of your cards. It's a first glimpse of the festivities to come! It's so exciting to have secured your venue and date and now be thinking about sending something physical in the post. We have detailed a few bits of information below we think are essential to include on your save our date cards.
Couples Names
Most important to include is the names of the happy couple. Imagine if you had sent a card in the post and forgot to include who is actually getting married! All of our customers in the past have included their names informally, so for example 'Laura & Paul' instead of 'Laura Baker and Paul Smith'. You can leave the formal identities for the wedding invitation itself.
Wedding Date
Including the wedding date is crucial as this is where guests can cross reference against their own calendar and check they are free on the day. People can plan their holidays around your wedding date or let their work know in advance if they need to book a day off, or organise babysitters / dog sitters. It is really personal choice whether to use a written style for the date e.g. 24th September 2022 or 24.09.22. Couples use a mix of both in our experience.
Region
Couples like to include the town and region in which they are getting married, for example "Cirencester, Cotswolds" which we think is a good idea as for all they know, you could be getting married abroad or a long car journey away. Don't assume they will assume you're getting married locally for example. People like to prepare for travel arrangements and think things through in their heads. You can include the venue, if you think guests might need to book accommodation in the region, otherwise it's nice to keep the venue as a surprise for the actual invitations.
Invitations to follow
It's a good idea to mention that invitations will follow, especially where you will detail out things like parking, gifts and address details on the information card. The wedding invitation will include the full address and timings of the ceremony.
Our top tip is to keep the save the date simple, it is supposed to include the basic essential information for the wedding day and to start getting guests excited about your party. It can be tempting to put more on there, but save this for the invitations. A simple save the date card always looks more stylish as well. Mail out your save our dates cards between 8-18 months before the wedding day. Who doesn't love something that has a handwritten envelope in the post, there is always something exciting inside. Browse more of our save the date designs which also include different style wording. They are all simple in design, so if your style changes later down the line, they will coincide whatever the wedding theme. All our save the date cards can be personalised to your requirements. Any questions, please get in touch with us here.