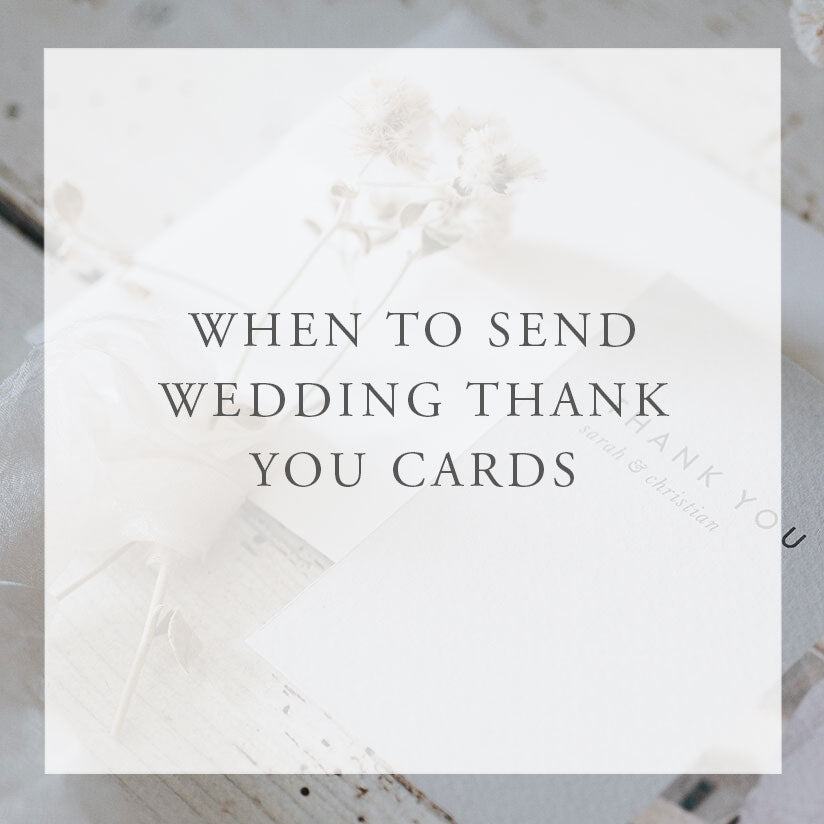 When to Send Wedding Thank you Cards
We get asked a lot by customers when to send wedding thank you cards. What is the correct etiquette for sending wedding thank you notes and what should they say? We have a few points to think about below.
Up to 2 months post wedding
Guests know you have most likely spent a full year or two planning your wedding around life's demands and they will know you need a well earned break. This instantly gives you a bit of breathing room after your wedding day has been and gone. They also know you may be taking an extended honeymoon (2 or 3 weeks in our experience). We would say anything longer than 2 months and your friends and family might see the day as a distant memory. Some customers even order their thank you cards before the wedding so that they are ready and waiting whenever you're ready to write!
Say something meaningful
One of the beautiful things about writing a wedding thank you card is the connection you can make with that guest or person in your life that you wanted to be present at the marriage in the first place. So as well as thanking them for a gift, if they bought you one, why not mention something meaningful like a moment in the day you noticed what they did to make you feel something or how they helped you with the some of the planning or ideas on the lead up to the day. If you can't think of either of these, (especially if the whole day went about 5 minutes long and you didn't get the chance to get around everyone), tell them how special it was to have them at the wedding and share specific moments. Another tip is to look through your wedding photos and mention any shots that are humorous or unique!
Turn off your devices
It can seem like a daunting task to write each thank you card, especially if you had a large wedding and need to write quite a few. When you're actually writing your thank you notes, it will most likely be an evening after work, in which case turn off your television and mobile to avoid any distractions. Sit at your kitchen table or a desk, light a candle, have a glass of wine to get you in the mood. Once you're in the flow, it's fine. It's the getting started in the first place that always seems to be tricky. If you're writing the thank you cards at the weekend, you could bring some to a cafe with a cup of tea, away from your home to get you into a more thoughtful mode.
Our designs
If you're looking for some design inspiration, we have a mix of minimal and photographic style designs for thank you cards that are all part of a collection. If you have ordered stationery from us already (for example invitations or menus or signs), you will find a wedding thank you card that matches your wedding stationery theme or item.
In summary, send your thank you cards 1-2 months after the wedding day. Everyone likes receiving hand writing notes in the post. Browse our thank you cards here for inspiration.