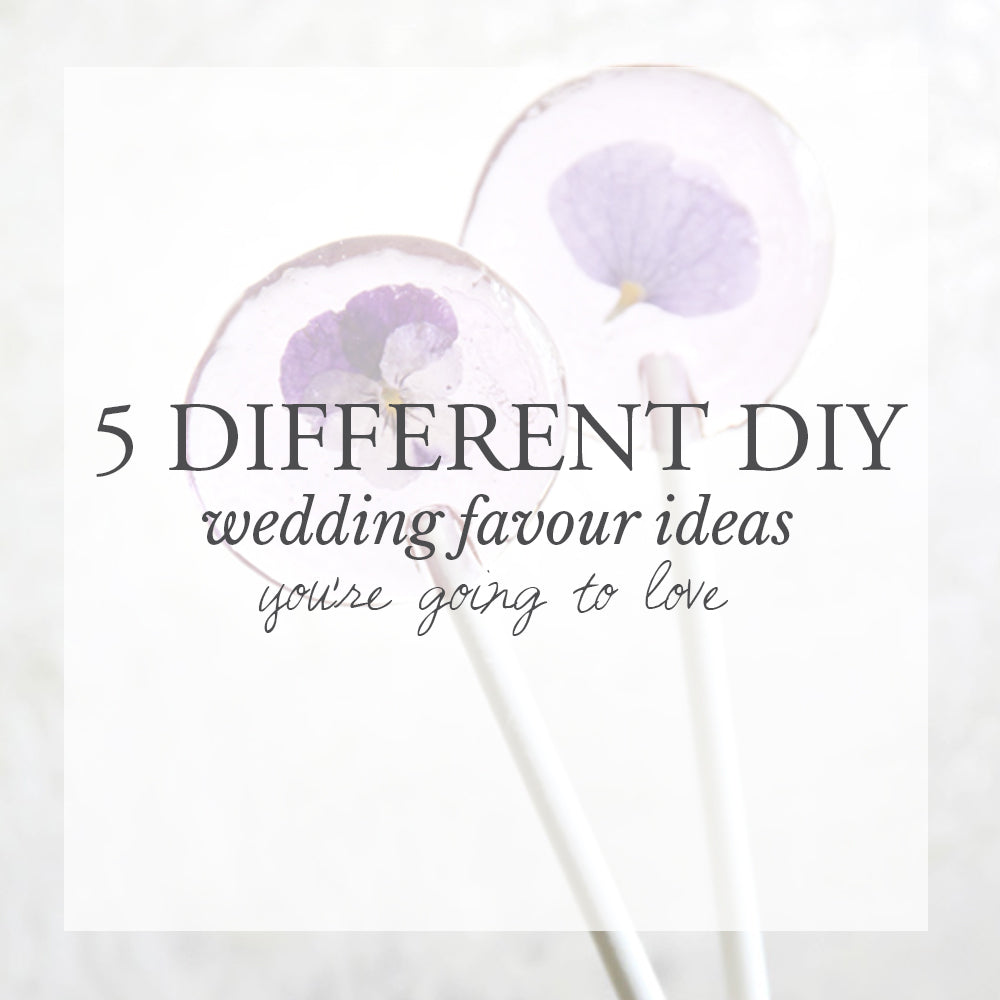 5 Different DIY Wedding Favour Ideas You're Going to Love
Wedding favours are a small gift given as a gesture to your guests usually during the wedding ceremony or reception. It's a small way of saying thank you for sharing our special day. It's also another way you can add a unique little detail to your day.  There's such a wonderful range of wedding favours available today. We have selected some great ideas that are more uncommon and that you can do yourself!
1) Spring Flower Lollipops
Our first beautiful wedding favour idea comes from Sprinkle Bakes. Okay so the colour stole our hearts straight away - but these can be made in any colour to match your flowers or colour theme for your day. These gorgeous pops have a sophisticated delicate quality and are sure to impress your guests. There are so many types of edible flowers and leaves that are easy to get your hands on such as Chamomile, Basil, Lavender, Pansies, Roses and Violas. You can also buy some more niche types from places like notonthehighstreet, yumbles, crocus. For the recipe and instructions head over to the Sprinkle Bake's blog post here.
2) Succulent Pots
We're obssessed with succulents at the moment. They have such an organic natural timeless quality and they're super easy to keep - they only need watering once a week which is why these favours don't have to be made at the last minute. They also come in such beautiful different colours. You can even use the cuttings of the leaf to grow more succulents. The best DIY succulent pot tutorial we found was from Say Yes where they achieve this beautiful faux concrete look.
3) Lavender Infused Soap
You can make soap in any accent colour - though we love white becuase it's neutral and goes with anything you may have decor-wise on your day. Did you know Lavender has such great qualities to relieve stress and make you more calm. Research shows the scent lowers heart rate and blood pressure, so you can send your guests off with this relaxing new soap bar for them to unwind. Maybe they'll need it to cure their hangovers the next day! We love this recipe from Home Oh My.
4) Mini Donuts
Put these infront of your guests and they might just spoil their dinner! Who doesnt love a donut? The crispy outside, soft doughy inside texture is hard to beat - sure to be wolfed down in a second. We love this lemon poppy seed mini donuts recipe from The Cake Blog or these Blueberry Ricotta Donuts from Fat Free Eats. Mini square boxes are also easy to find anc purchase.
5) White Rocky Road
This wedding favour is brilliant because firstly it's a spin on the traditional rocky road and it can be made in a big batch and then cut up into squares/ bit sized chunks. There'a also several ways you could present them with either a ribbon or mini box or plastic cellophane. For the full recipe see Technicolour Kitchen. What's great about these as well is that they don't need the delicate touch or expert in the kitchen so it's a duty you could give out to your mum or a bridesmaid to prepare in the final couple of weeks before the wedding day.
We hope you have found these little treats inspiring. We'd love it if you liked or shared this post and don't forget we can design some gorgeous labels or gift tags to accompany these favours - get in touch for a bespoke design here.