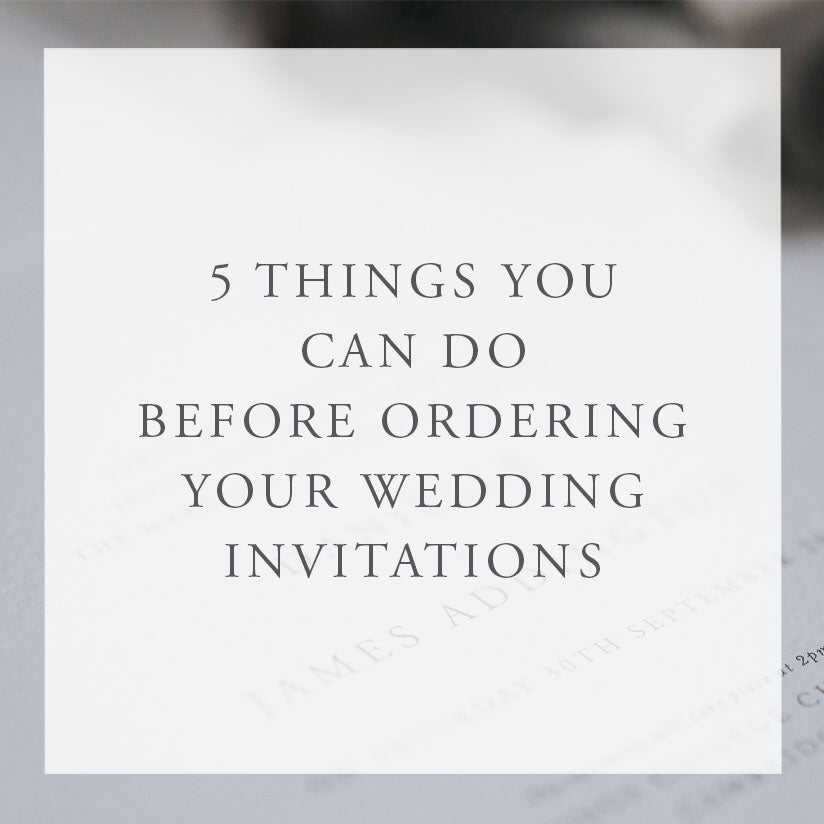 5 Things You Can Do Before Ordering Your Wedding Invitations
Invitations are a really exciting part of your wedding journey. They feel like the start of your wedding preparations. For your guests, it's something really nice to receive in the post and who doesn't love the feel of quality stationery in their hands? If you're still waiting for your wedding venue to finalise the date, especially with everything that's going on, here's a few things you can get ready when you are finally able to order your wedding invitations.
1 Decide on the style
Minimal, floral, traditional? Put a mood board together. Pinterest is great for this. You can think about what colours you would like to include or just keep everything white and/or grey! This way, if you haven't decided on your colour scheme yet, a neutral palette will go with anything. If you have decided on colours you would definitely like to include through your day (e.g. for an autumnal wedding you might like to include burnt oranges and deeper greens), it might be worth including this subtly in your invitation set. In the past we have ordered in envelope colours that match bridesmaid dresses or specific flowers for example.
In our opinion, simple wedding invitation designs always win as they are easy for guests to read and appear more timeless.
2 Write your content
Think about how you would like to word your invitation. For example, some couples like to include their parents names on the introduction or just have "together with their families, Sophie and Nick invite you….". We have written a journal post on this topic if you would like to get more ideas about what text and content to include on your information card and RSVP card as well. You can find that journal post here. Ask your venue when they need confirmed numbers by so you know what RSVP date to put on this card.
3 Make a list of all your guests
Making a guest list can be tricky, with parents perhaps expecting certain people to be invited, it might be worth addressing who you would like there, to your parents before the invitations go out, so there are no surprises. It's good to start making the list on a spreadsheet like excel as this way you can start building the information such as addresses (next to the name in a new column) and later you might add dietary requirements. If you make a list of names once on a spreadsheet, you won't have to make another. If you are limited to a specific number of guests because of budget and are finding it difficult, think about whether you will be in contact with this person in 20 years time. Are they really special to you, would you be sad if they weren't there or in some of the photos? Don't forget, it's your wedding, you can invite who you like.



4 Buy the stamps
This is a simple one, but anything you can get ready before you start stuffing the invitations in their envelopes can add to the organisation of getting them in the post. Once you have collated your addresses you will know if you need to buy stamps for abroad as well. All our invitation sets are under 100g and are classed by royal mail as a small letter so these would only need a standard first or second class stamp. A first class stamp is 76p and a second class stamp is 65p. It might be worth adding up the total cost of the stamps you will need and adding this into your wedding invitation budget.


5 Decide on your stationery budget
What proportion of the wedding budget might you like to spend on stationery as a whole and then what proportion of the stationery budget would you like to spend on your invitations? The good thing about wedding invitations are that it's early on in the process so you won't have the bill of this stationery near the date of your wedding. In our experience, customers spend between £200 and £500 on average if they are having around 100 guests to their wedding. This varies dramatically when you take away or add in accessories. One service we offer is to print the guest addresses on the envelopes. This is great if you don't like your own hand writing, you can see these here. Wax seals and vellum/ transparent jackets are getting increasingly popular to couple with our invitations as well. You can find these on our accessories page.


These are a steps you can take to get ready for when you order your invitations. Please browse and get inspiration from our invitations page. All of our invitations have matching on-the-day stationery, so you can come back and order bits for your day and know there will be a cohesive style running through. Good luck!