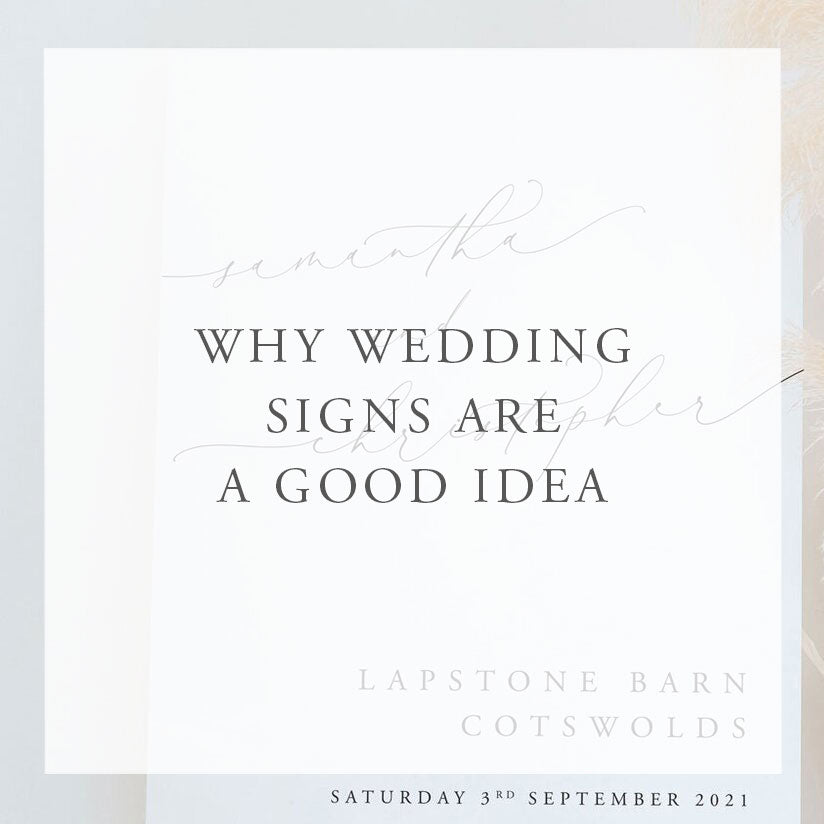 Why Wedding Signs Are a Good Idea
Wedding signs have enormously grown in popularity in the last couple of years and for good reason. We've explained below why they are such a good idea and how they can be used in and around your day.
A gorgeous welcome sign at the church or venue will let guests know they are in the correct place and put them at ease when they arrive at the ceremony. Welcome signs can also be great for adding polite reminders to guests for example "no confetti please" or "please refrain from sharing any pictures on social media until after the wedding day" or conversely, you could add a unique hashtag to the bottom of the welcome sign to encourage the sharing of pictures and videos e.g. #sarahandmattgethitched
A beautiful order of the day sign can let guests know about timings of the day and what is happening when. This is really helpful if you have a strict venue hire and guests need to have left the premises at midnight for example. If things run late, we don't want there to only be 2 hours of dancing left! There will be less questions asked by your friends and family and they can be swiftly ushered to their seats (you have your groomsmen for this, so the board is a great guide for them too!)
Often guests order extra place cards/ name cards for labelling food on their dessert tables. This is especially good for pointing out which cakes are vegan or gluten free for example. Place cards can also be used for reserved seating at the ceremony. Use words like " reserved for mother of the bride" as you will need to save a few seats at the front for the bridal party to sit down after they come in.
Other popular signs include "take a snap", "cards", "please sign our guest book" and also bar menus and cocktail/ drinks menus.
We have some stunning sign styles to choose from, all with matching on-the-day stationery for a cohesive look to your day. We also create bespoke signs for couples should they have any ideas. Our signs are produced on beautiful materials such as transparent or frosted acrylic, luxury textured card and white foamex. Why not get in touch with us here or have a browse through our collections for some inspiration.
We are offering £10 off any of our welcome signs the month of February 2020, so if you're getting married this year and would like to get ahead of the game, have a look at some of our beautiful welcome signs and sign up to our newsletter to receive the offer. Offer ends 1st March 2020. Offer can only be applied to one item.