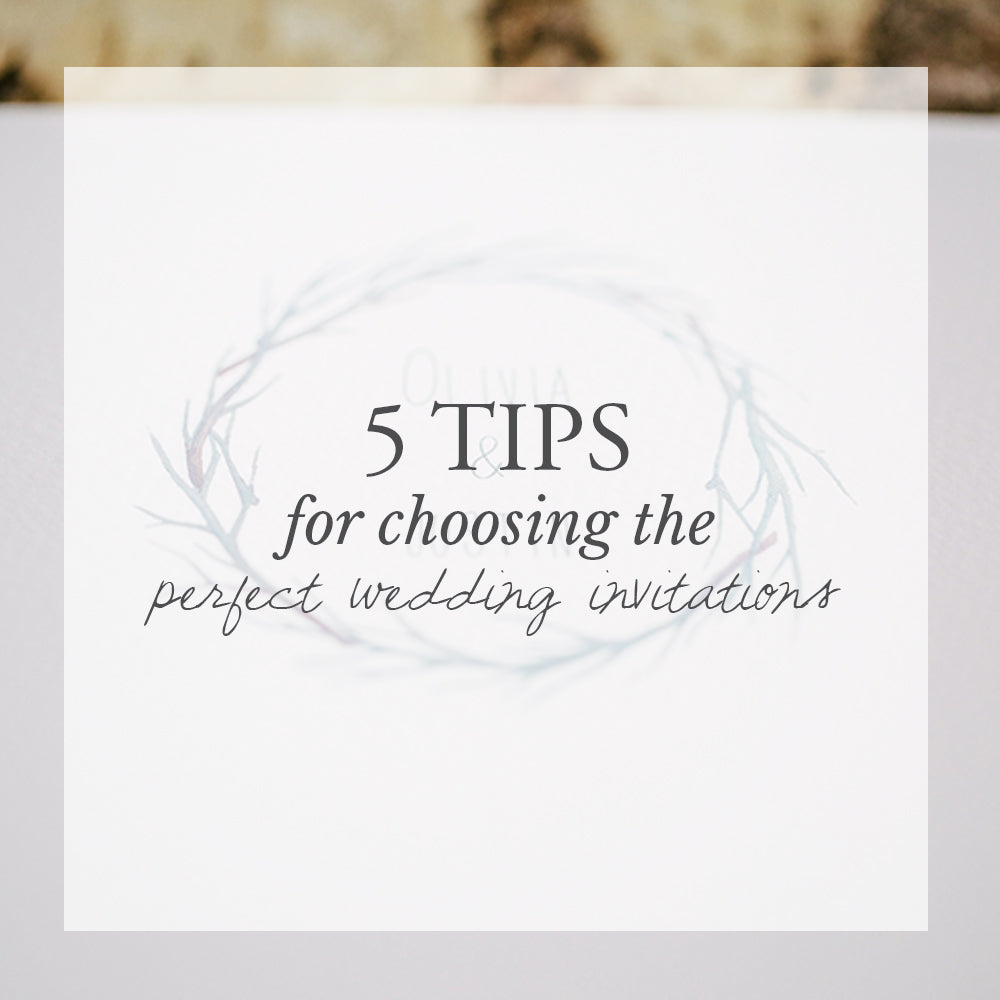 5 Tips for Choosing the Perfect Wedding Invitations
Your wedding invitation really sets the tone for your wedding. It is the face of your big day and will give your guests an important introduction to your event - so you want them to be the best they can be. 
You may have lots of questions in mind as the options can be endless. It's okay to not have a clear vision of exactly what you would like. We share our tips below for choosing the perfect wedding invites.
1) Know your style
Whether its boho, classic or modern - knowing your style can already narrow down the search. If you've been collecting ideas and images for your wedding already - look at these all together and ask your self what style best describes the overall feeling? Your style can then fit in with this.
2) Decide on colours
If you have already chosen a colour palette for your wedding - that is fantastic. Think about flowers, bridesmaid dresses or something neutral that will go with everything - grey can be gorgeous. (FYI... all of our wedding invitation templates at Lilac & White can be adjusted to your chosen colours).
3) Define your words
It's a good idea to have all the content you want on the invitations before you select a design. Often bride to be's forget all the information their guests require and later down the line realise they need info cards and RSVPs as well as the main invitation (which drags on the process). And what about evening guest invitations? Would you like these to be different? Consider everything and write it all down. This will make going into the design process a heck of a lot easier. Always triple check the wording for spelling and grammar.
4) Consider envelopes
Do your bought invitations come with envelopes? Or do you need to buy some seperately - if so check the size. For example if you're ordering A5 invitations, C5 envelopes is the size you will need to fit these, A6 fits C6 and so on. At Lilac & White - all of our wedding invites and save the dates come with the correct sized envelopes as standard - see above forour 4 different options.
5) Work out how many you need
Don't forget, lots of your guests will be in couples or families, so you don't need to order one for every guest and increase the cost of the invitations. It's a good idea to have spares though incase circumstances change especially as invitations go out quite a few months before the big day.
At Lilac & White we've made things simple for couples by creating the perfect template designs - see our collection here. Any of our designs can be amended to use different colours or details (please get in touch for a bespoke design). Goodluck!