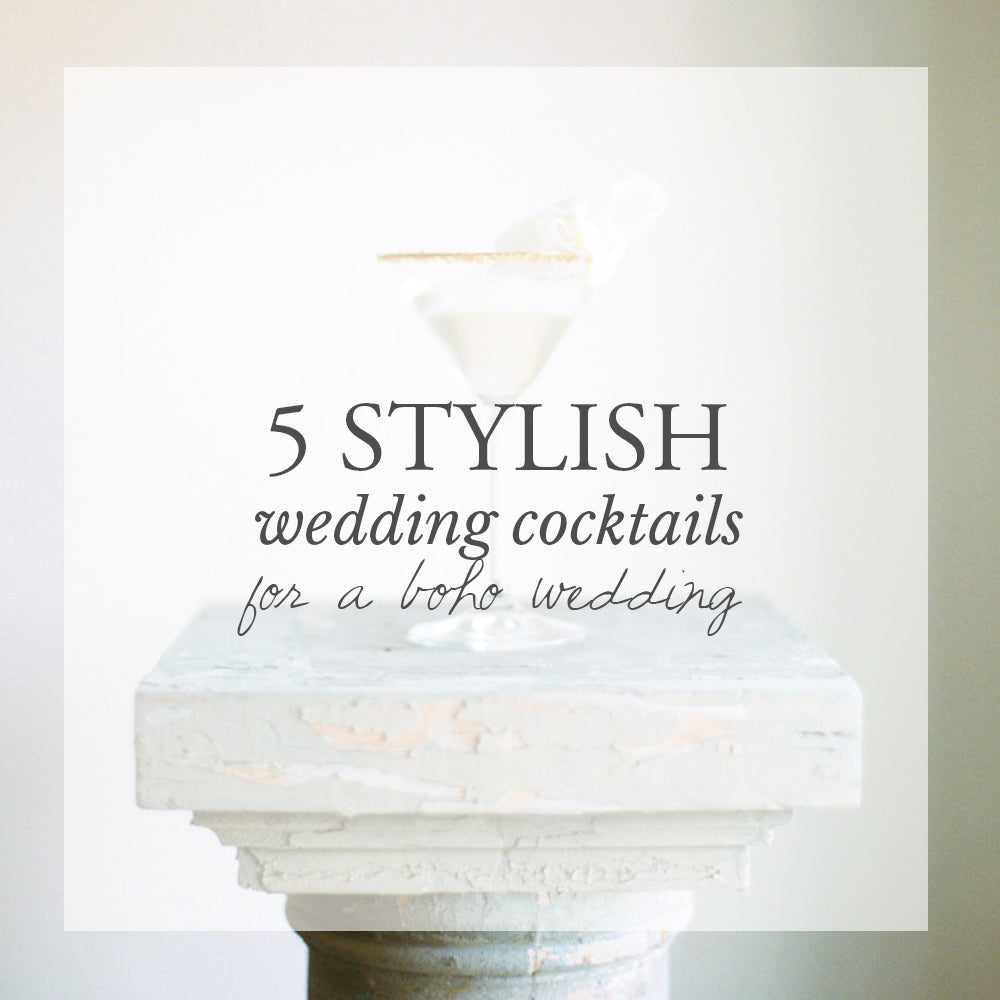 5 Stylish Wedding Cocktails for a Boho Wedding
Who doesn't love a cocktail! Get your guests in their merry mood after your ceremony with these absolute delights. Instead of offering your guests an array of drink options (which costs more) - why not stick to one or two and have your own signature cocktail - you could even name it!
1) Blueberry Vodka Martini
1oz. Vodka (use blueberry infused vodka for even more flavour)
4oz. Lemonde
2 sprigs Fresh Mint
1 tbsp Fresh Blueberries
Crushed Ice
Method
Mix the vodka, mint and blueberries in a shaker. Add one cup of crushed ice and shake away. Pour into a tall glass and top with lemonda- garnish with any blueberries and sprigs of mint.
1.5oz Gin
1/2oz Martini Bianco
2/3oz Lvender Simple syrup (make your own with 1 cup of water, 1 cup of sugar and 3 tbsp dried culinary lavender)
1/2oz Fresh Lemon Juice
2 Basil Leaves
Dash of Peach Snapps
Ice Cubes
Fizzy Water
Method
In a tall glass scatter in the basil leaves, ad the gin, martini bianco, lavender syrup, lemon juice and peach snapps. Fill the glass with a few ice cubes and top with fizzy water. Garnish with a sprig of lavender and slice of lemon if you have it.
3) Vodka Pear Lavender (from Sugar and Cloth)
1 Pear, Juiced
2oz Vodka
2oz Lemon Juice
2oz Water
3/4oz Lavender Simple Syrup
Pinch of Salt
1 Cup of Sugar
1 Cup of Water
Stalks of Fresh Lavender
Method
Make lavender syrup by boiling 1 cup sugar, 1 cup water, and lavender in a pot. Turn to low and simmer for 10 mins. Let cool and strain out lavender. Juice pear and strain any pulp. Combine all remaining ingredients into a shaker and shake. Strain into a tall glass with ice.
4) Prosecco Sorbet Cocktail (from Baked Bree)
1 Bottle of Prosecco
Angostura Bitters
1 Pint Lemon Sorbet
1 Pint Blood Orange Sorbet
Mint
Method
Add a 2-3 dashes of bitters to the bottom of a glass. Add a few small scoops of sorbet to the glass. Pour Prosecco over. Garnish with mint.
5) The White Cosmopolitan (from St Germain)
2 parts Vodka
1 part St-Germain
1/2 part Lime Juice
3/4 part White Cranberry Juice
Method
Shake all ingredients and strain into a chilled martini glass.