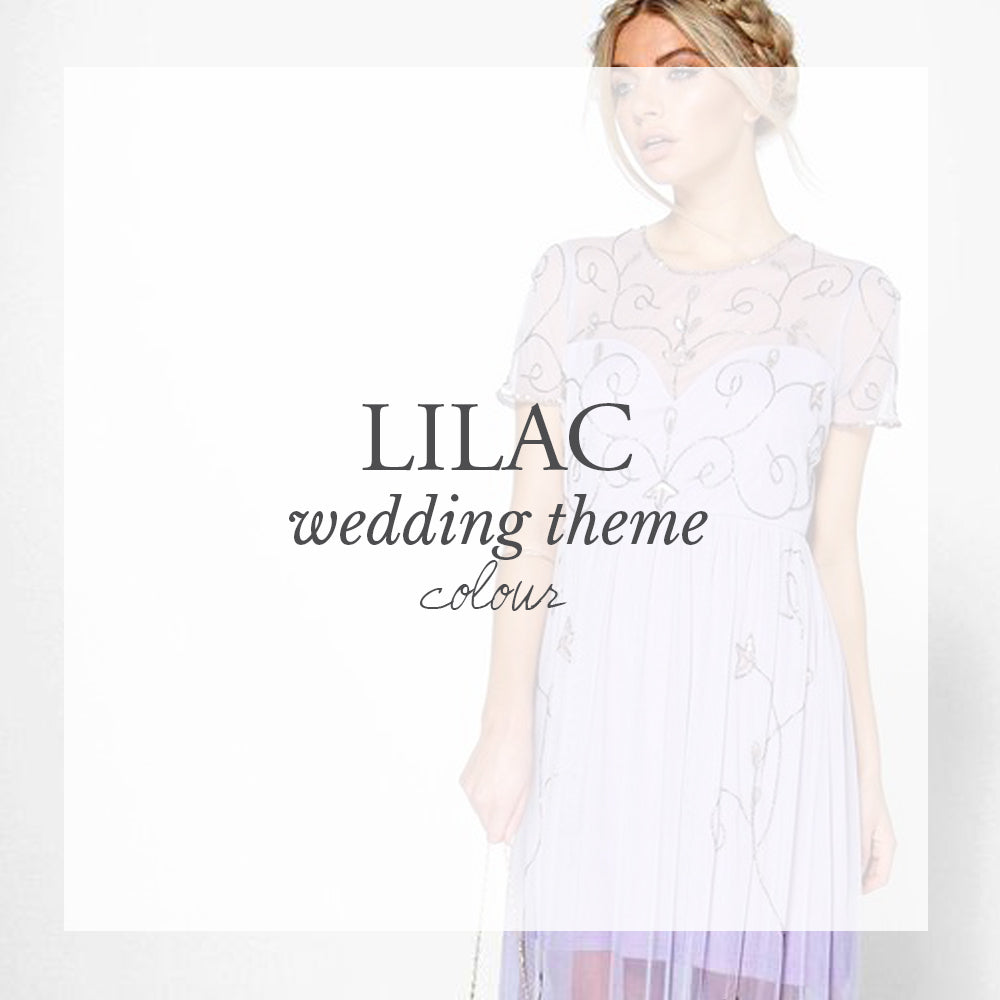 Lilac Wedding Theme Colour
Lilac deriving from the powerful colour of purple represents imagination and spirituality. It lets you get in touch with your deeper thoughts and creates harmony in our mind of emotions. Lilac in particular is great for creating a stress free sanctuary environment - perfect for any wedding day aura.
Bridesmaid Dresses
First up our pick of lilac bridesmaid dresses for 2016. The high street are producing some absolute stunners at affordable prices. We love long floaty dresses as they tend to add that extra elegant sophistication as well as suiting most body types. From left to right we love this Steen Bow Back Maxi from TFNC (available on Asos). The sateen waist belt really adds a bit of opulence. We also love this Corine boutique embellished maxi dress from boohoo.com for a whimsical magical look or this wedding lace applique maxi dress form Asos. It's chiffon lined and softly pleated skirt with scoop back make the dress. These long dresses will keep your girls cool or warm depending on the weather.
Drinks
Well we know that adding a sprig of lavender instantly adds sophisitcation to any cocktail so order a bit extra from your florist and ask the caterers to add a couple of stalks. Figs are also a great decorative garnish and we love these flower infused ice cube idea. Notice you don't need any fancy glasses when adding these little special floral garnishes.
Props
Props can be a great stage for photo moments. We love these bold ideas below. Imagine your guests purched on these for fun group shots and the brdie and groom for romantic shots. And these can easily be made by you with a can of spray paint. There are some good wedding prop hire companies around if you fancy skipping the DIY. Remember to add flowers to complete the wedding look.
Hair Flowers
When it comes to hair, we love the natural look. Ask your florist what they can do in the way of tiny mini flowers. Using these is not only light in weight and won't make your hair fall down but they have a romantic delicacy. On the left, we love this look from Katerina Kazakova. We also love this medieval maid marion type hair style with a low crown look on the right (photo by Sabrina Nielson Photography). Even thought these look like natural easy hair waves, it's a good idea to practice these looks with a hair stylist and take pictures so you know exactly what you're aiming for on the day. If you want to take the stress out of the day without using fresh flowers, try this silk flower crown from Blue Orchard Creations.
Shoes
What are we looking for in a shoe for brides and bridesmaids? Comfort and style. We think these court or a strappy shoes will be held to the feet all day long. Again, the high street is pulling out some delights. From left to right, try these soft fabric strappy sandals from Shuh or these Lucy quilted strappy heels in a lighter shade. For classic comfort and more coverage, we've selected these sunny velvet shoes from Sergio Rossi.
Underwear
Break tradition and surprise your partner with some sexy lilac lacy undies or you could spring these out on your honeymoon. It's a fact that new and good underwear make you feel good. It might be a nice idea to have these for the day after the weddnig day - something clean and fresh to throw on. From left to right, we love this sheer lace intimate set from Anthropologie. Anthropologie says this layer of clothing worn next to the heart should express things that make up an exquisite woman: happiness, love and confidence - what a great mantra! For you ladies preferring underwired, we've selected this matching lace set from Hanna and Minna Vanilla. We love the embroidered detail on both. If you really want to push the boat out on your wedding night or honeymoon, why night drape around in this Rosamosario silk-georgette nightdress. This little work of art is finished with light-catching crystal buttons along the side to continue to make you glow during and after your wedding.
Stationery
We love lilac and the pyschology of the colour which is why we use it in so many of our stationery designs. Like white it has a calming and tranquil nature. Here is a selection of invitations, menu cards and order of services that you can find on our site. We also design bespoke stationery for many customers extending to bits like favour labels, table name cards, table plans and gift tags. Have a look at some of our stationery templates or we'd love to hear from you about any special stationery ideas you have that we can help with - so get in touch.
All photography apart from stationery images can be found on our pinterest board. If you enjoyed our lilac themed article, we'd love you to share with others on the share button below. Please leave us a comment and tell us which bits are your favourites. Thanks for reading!