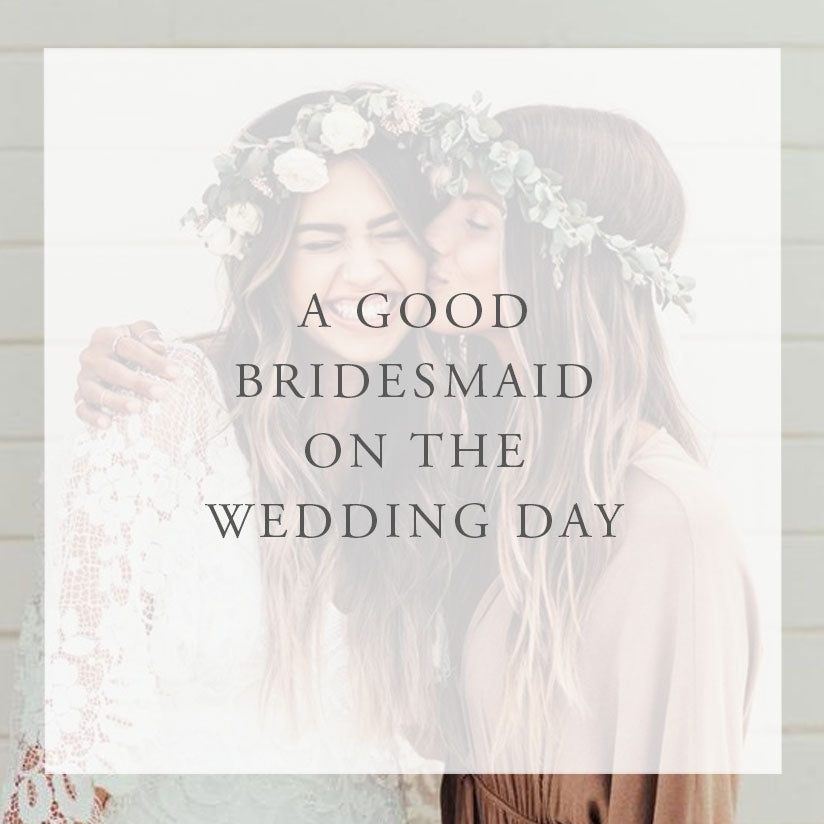 A Good Bridesmaid on the Wedding Day
Let everyone see your smile
It's important to keep the day as light and stress-free as possible. When the Bride looks back on this day she will remember lots of laughter and fun in the run up to her wedding day so make sure you keep a big smile on your face all day and take away any stress for her by just having a good time. This is also a good one to remember as you walk down the aisle – nobody wants to see a miserable bridesmaid! In fact, it's probably just safest to keep a smile on your face as long as  you can hold one. 
Image via Pinterest
Keep the Bride in sight
As bridesmaid, it's good to keep an eye out for where the bride is throughout the day. This doesn't mean being by her side all day, particularly when she is trying to spend some meaningful time with her new spouse, but it means you can swoop in at any moments notice with lipstick, tissues and a cuddle or whatever else her heart desires. 
Image via Pinterest
Keep a supply of makeup handy
Following on from the point above, not only is it your duty to make sure you are on hand for replenishing makeup and perfume whenever needed, but you also need to make sure you bring it in the first place! Handbag essentials for the bridesmaid include the Brides perfume, underarm, lipstick and whatever other makeup she may want to apply throughout the night. Various hairclips and bobbles are also great in case any last minute hair rescues are needed. You should probably also plan to take care of her phone, keys and anything else important until the end of the night - store this in a safe place.
Image via Pinterest
Become the Lord of the Dance!
Nobody wants to see an empty dance floor at a wedding and what better way to fill it than by setting a first rate example! The floor is obviously off limits during the first dance, but after that you should plan to confine yourself to it for most of the night. Request the Brides favourite songs, entice her friends to come and dance with you, basically do whatever it takes to make sure she has an amazing time and the dance floor is always at least 80% full.
Image via Pinterest
Positivity
Along with your smile, install only thoughts of positivity. Say nice things about guests and how much their enjoying themselves. Brides worry about whether everyone is having a good time. They have planned such a big day and want it to all good smoothly. Turn anything negative into a positive. If it's raining, say that it's good luck and the marriage will last forever.