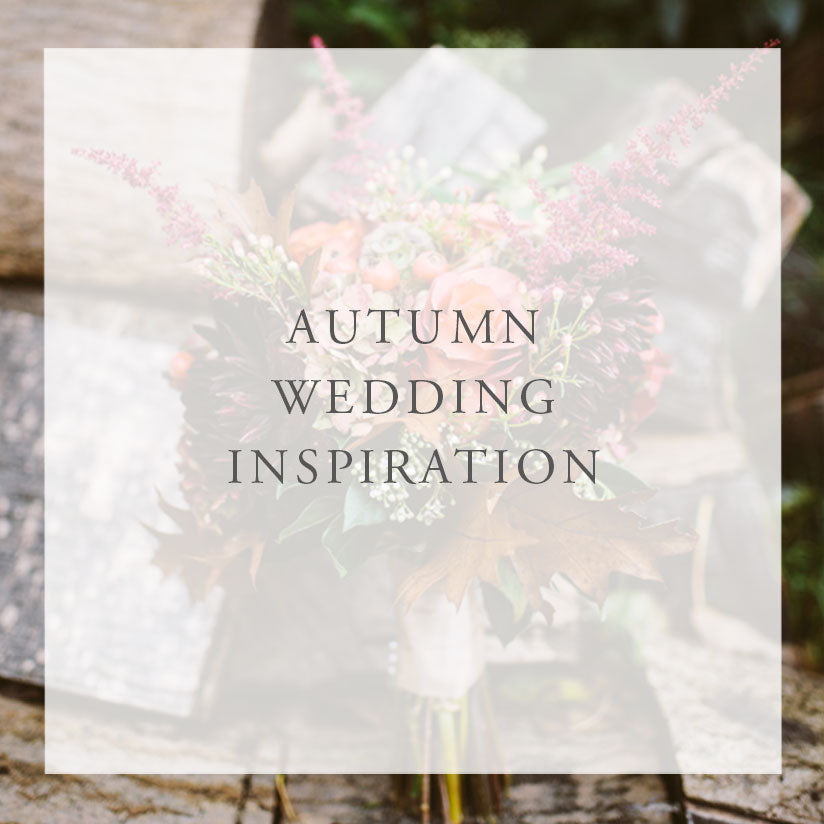 Autumn Weddng Inspiration
There's nothing quite like a beautifully planned and executed autumn wedding. The brilliant shades of rich auburns and bright golds that frame the trees can be turned into the perfect wedding colour palette, whilst the beautiful scenery at this time of year creates a stunning backdrop for your wedding pictures, that will be dramatically different from the standard summer wedding. If you're unsure of whether autumn is the right time for you to hold your wedding, then let us persuade you with some of our favourite features…
Flowers
Allow your autumn theme to influence your wedding flowers and you will have an abundance of choice. From deep, velvety reds and rich plums, to glowing, burnished oranges and opulent golds, an autumn colour palette offers a rich array to choose from. Choose a mix of bold shades and garnish your wedding bouquet with sprigs of deep green to create an enchanting woodland effect, or offset it with a brightly coloured piece of ribbon that will contrast magnificently with the heavier shades.
Image's via Pinterest
Cake
One of our favourite wedding cake trends is the 'naked cake'. Simple layers of plain victoria sponge can be tailored to the individual bride and grooms needs by the addition of simple garnishes that create a 'wow' effect. For an autumn wedding we love the idea of combining seasonal flowers with mixed berries and fruits. Keep the cake itself very plain and offset your decorations by displaying the finished masterpiece on a piece of rustic bark to add to the autumnal theme.
Image's via Pinterest
Cocktails
An autumn wedding allows you to become creative with your wedding cocktail of choice. If the weather is already quite cool go for a warm drink, such as a lightly spiced apple cider, that will keep your guests toasty warm. If you prefer to stick to a more traditional cold drink then try creating your own version of sangria by using apple cider instead of wine. The beauty of creating your own is that you can also choose fruits and garnishes that perfectly complement your wedding colours and tie into your theme.
Image's via Pinterest
Confetti
Embrace your theme whole heartedly by adopting autumn inspired confetti. Autumn leaf confetti can be bought or made, and provided to your guests on arrival. Again, the colours can be tailored to your specific requirements, particularly if you are making it yourself, and this will provide some truly spectacular shots from your wedding day.
Image's via Pinterest
Accessories and decorations
Autumn-inspired accessories are all about comfort. Think warm, fuzzy blankets on hand for any of your guests that may get cold, particularly if you are in a marquee or have an outside seating area, and soft golden candlelight to set the scene in the evening.  Whether you choose tall, wicker candle lanterns or dainty little tea lights, candles can be used to create a beautiful setting. Another great idea, and one of our top tips is to mix your floral decorations with fruit, such as pumpkins or apples, to add a rustic effect. Using apples is also a great way to highlight your autumn theme – go for a traditional apple pie dessert, use them to create beautiful table decorations or even present all the children with toffee apple favours. Get really creative to add that stamp of individuality to your wedding day.
Image's via Pinterest