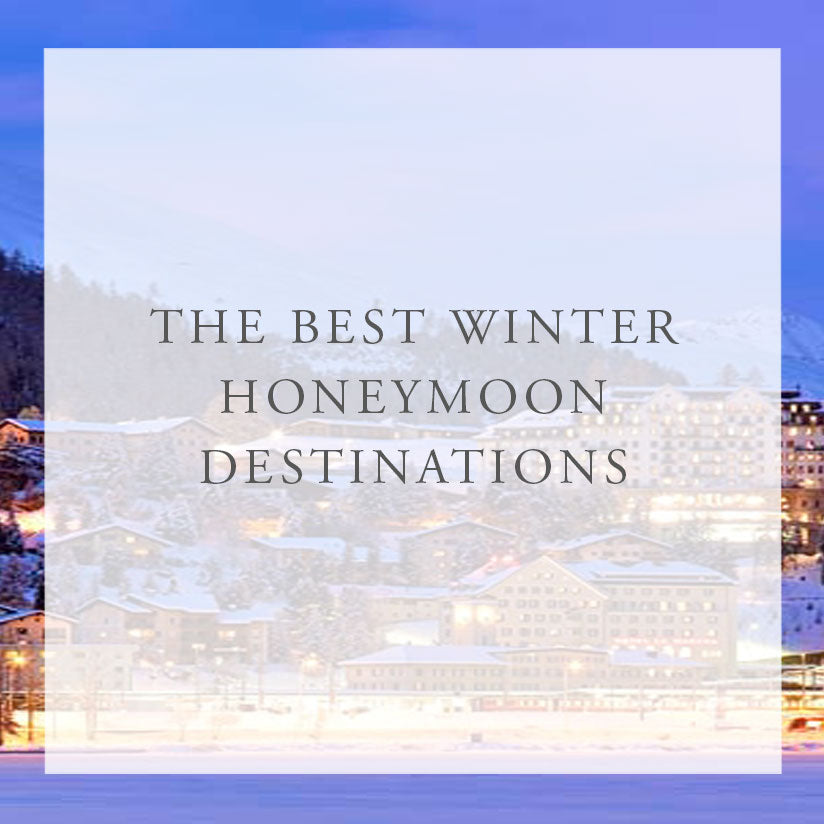 The Best Winter Honeymoon Destinations
A winter wedding will inevitably lead onto a winter honeymoon, and whilst you may think this can limit your choices when compared to a summer wedding, this is not the case. From magical winter wonderlands, to exotically, tropical islands, there is still an abundance of choice before you. Let us entice you with some of our favourite options for a winter honeymoon and we can promise that the only difficult decision will be which option you want the most!
St. Moritz, Switzerland
Exuding glamour and luxury, St. Moritz is one of the oldest winter ski resorts and offers the perfect setting for a luxurious yet picturesque honeymoon. Sitting a good 6500ft above sea level, the resort offers some spectacular skiing, complimented by a range of sophisticated bars and restaurants all set against the stunning backdrop of the Swiss Alps. Spend your days flying down the pristine, glittering slopes, and your evenings enjoying the many après-ski options on offer. Let this winter paradise seduce you with her world class ski slopes, beautiful scenery and gourmet dining options.
Best for… Couples who want a mix of pampering and activities
Image via http://stmoritzswitzerland.travel/en/information/
New York
For a spectacularly magical winter honeymoon, plan the ultimate break in the city that never sleeps. Famous for having a hectic pace, unbeatable restaurants and the most imaginative Christmas decorations year on year, this is one city break that is guaranteed to get you into the festive spirit. Enjoy gliding around one of the many outdoor ice skating rinks in the city, explore some of the famously outlandish Christmas decorations in the city's department stores and sample delicious delicacies from one of the many famous restaurants. If you think you may be a little blue once your wedding is over then a break in New York is the perfect antidote to this.
Best for… Christmas lovers, foodies and culture buffs
Images via Pinterest
Barbados
With a balmy year round temperature that never usually dips below the mid-twenties, finding some winter sun is easy if you look to Barbados. This small island is located less than eight hours on the plane from the UK and has one big personality. Enjoy laid back days on the beautiful west coast beaches, or experience the thrilling nightlife on the bustling south coast of the island. Experience world class cuisine in some of the islands best restaurants or drop by Oistins on a Friday evening for some authentic Bajan cuisine and entertainment alongside the islands locals. Whatever you choose to experience in Barbados, we can guarantee you will be back for more.
Best for… beach lovers and party goers
image via Pinterest
Iceland
For a once in a lifetime experience, venture into the land of ice and fire and experience some truly unique and stunning scenery. Famous for its dramatic landscape, Iceland offers the perfect setting for a different honeymoon that can include everything from mountains and glaciers, to the pure relaxation of immersing yourself in the world famous Blue Lagoon. One of the biggest draws is, of course, the chance to see the magnificent spectacle of the Aurora Borealis, or Northern Lights. This elusive display is visible for eight months of the year, although never guaranteed. Iceland is, however, one of the best places in the world to see it and if you are one of the lucky few who are privileged enough to witness this, what could be a better blessing for a long and happy marriage?
Best for… nature lovers and hopeless romantics
Images via Pinterest
Dubai
Playground of the rich and famous, Dubai offers the ultimate in luxury to even the most discerning of travellers. Experience a ski slope in a shopping mall, sunsets viewed from the tallest skyscraper in the world and thrills in the world's largest indoor amusement park. Shop to your hearts content or relax in lavish surroundings in one of the many opulent hotels.
Best for… Luxury lovers, sun worshippers and thrill seekers
Images via Pinterest