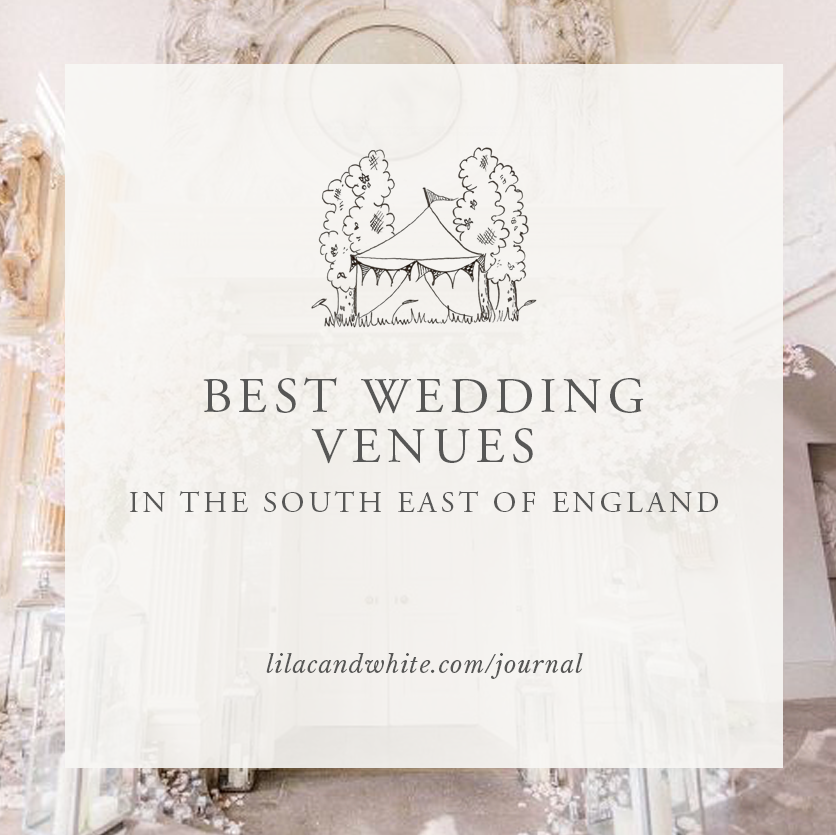 Best Wedding Venues The South East of England
Spring is a beautiful time of the year associated with new beginnings making it one of the best times to say 'I do.' One of the most memorable parts of your wedding will be the venue. It impacts how many people you can have come to your big day, the atmosphere and of course, the many photos you will have taken. Out of the hundreds of stunning wedding venues across the UK, we have made a selection from the South East of England that we think are some of the best around. 
Aynhoe Park, Oxfordshire
Style: Blow the budget
Capacity: 150 people (ceremony), 300 people (reception) 
Average waiting list: up to 15 months 
Top left, top right, bottom right image courtesy of Aynehoe Park, bottom right image from Sanshine photogrpahy
Why we like it: This Oxfordshire property is truly unique. Interior details at this venue include unicorns and giraffes, baroque styled staircases and hidden cellars for the after-party. Aynhoe park has a list of over 150 recommended suppliers to make every single one of your wedding dreams come true. You have the option to hire the entire property, bedrooms and all, for the weekend and extras such as pre-wedding afternoon tea and butler service makes it a truly memorable event for everyone involved. 
Farbridge, Chichester
Capacity: 132 people (ceremony), 150 people (sit-down), 200 people (standing)
Average waiting list: 1 year 
Average cost of a wedding here: £25,000
Style: Rustic charm 
Why we like it: Farbridge has a 'middle of nowhere' feel to it given its rich green surroundings and idle renovated barns. In reality, you can get there easily from London, Brighton and Southampton. The wealth of gardens make for a beautiful cocktail reception setting that is well suited to the sunny, brisk days of Spring. Farbridge have in-house caterers to take care of your food requirements but what impressed us what that, unlike most venues, they don't charge corkage if you want to serve your own choice of wines. 
Greenacres Woodland Chiltern
Capacity: Up to 120 people
Average waiting list: None 
Average cost of a wedding here: £20,000
Style: Stripped back woodlands 
Top left image from Hannah Duffy Photography, other three images courtesy of Greenacres Woodland
Why we like it: Greenacres Woodland are experts at woodland weddings. These venues offer an alternative to extravagant weddings with their stripped back, close to nature approach. Even when inside at these places, you still feel connected to your surroundings which are mostly a blank canvas for you to make of what you will. Fairly lights, handmade decorations and boho-chic accessorising work tremendously here. The focus, as it is always should be on your wedding day, is on you and your husband. 
Petersham Nurseries, Surrey
Capacity: Minimum of 80 people, maximum of 140 people
Average waiting list: 12-18 months 
Average cost of a wedding here: £25,000 
Style: Secret Garden 
Images courtesy of Petersham Nurseries
Why we like it: The way Petersham Nurseries is laid out makes for organic intimacy between you and your guests. Even larger parties will feel close and connected at this venue. Being tucked away inside glasshouses also makes for a romantic setting come whatever the weather in Spring. Petersham Nurseries strikes the perfect balance between grown-up and whimsical, a secluded and secret setting that only you and your guests are part of, for your day at least. 
Somerley House
Capacity: 120 people (sit-down), 200 people (marquee) 
Average waiting list: 8 months 
Average cost of a wedding here: £37,000
Style: Romantic Country Manor 
Top left image and bottom middle image courtesy of Somerley House, top right and bottom right image from Kittywshaw photography, bottom left from Anna Morgan 
Why we like it: Somerley House has been the subject of many photographers and TV series over the years owing to the sheer beauty of it. It is unique in that it is a privately owned family estate and therefore flexibility in customising your wedding is wide open. Brides and Grooms at Somerley House are spoilt for choice when it comes to atmosphere and ambience. Whether it is the walled garden in the warmer Spring months or the luxurious surroundings of the main hall, everything about this venue is picture-perfect. 
 With so many stunning venues to consider, your ultimate decision should stem from the feeling each place gives you. Once you have booked a venue and have a date secured, you can now send out those all important invitations - head over to our invitations page for inspiration.