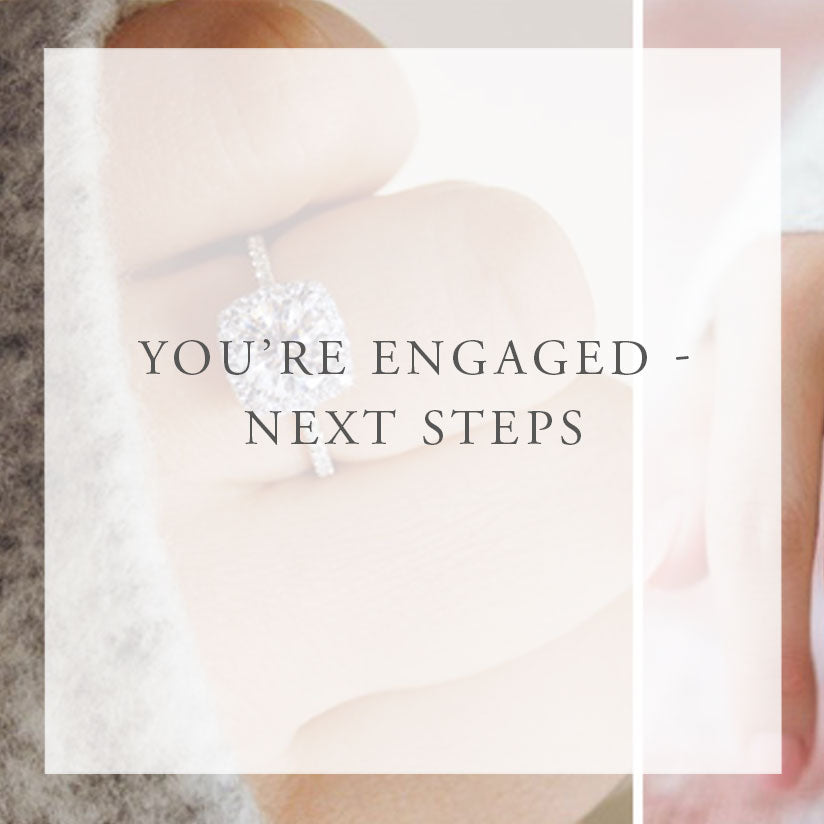 You're Engaged - Nexty Steps
The moment you become engaged a hundred different emotions and thoughts rush through your mind. Your wedding will be one of the most significant events in your life, and this fact alone can be overwhelming. Before you start working on the planning and details, we have some practical considerations that are useful to every couple after the moment you said 'yes.' 
1. Spread the good news in the right way
Although your engagement is personal to you, your family and close friends will want to share in the happiness with you. We recommend phoning your parents and close family first, followed by your inner circle of friends and finishing the announcement off with a social media post that will reach everyone else. 
The moment you tell other people you are engaged, you can expect to welcome questions about how it happened, when the wedding will be and what vibe you are opting to have on the day. For that reason, it might even make sense to contain some of the excitement and wait a couple of days before sharing your news with the masses so that you can enjoy your engagement as a couple without frequent phone notifications. 
2. Have your engagement ring insured
Images via Pinterest
Every bride-to-be will treasure their engagement ring, but many women forget to protect it adequately. Speak to the company that provides your contents insurance and ask that they add the ring to your policy. It is worth confirming their conditions around loss or theft outside of the property too so you know they will cover you in all situations. 
You can also find jewellery specific insurance policies that might be better. If you opt to take out one of these options, ensure they will compensate you for loss, theft and damage caused by you or a third party jeweller. To further safety proof your beloved jewel, make sure that you have it valued by an appraiser with the appropriate credentials so your insurance company can not overrule the worth you have placed on it. 
3. Get your engagement ring sized
Images via Pinterest
Your fiancee has put a lot of thought into your engagement ring, and there are plenty of things they would have considered before making a purchase. If they have caught you by surprise, there may be a chance the ring, however beautiful, doesn't fit perfectly. 
Take it to an expert re-sizing jeweller and have them size it correctly for you. Doing this will make sure this treasured possession stays where it should without causing discomfort or sliding off accidentally. Be mindful that this process can be quite tricky and it is essential to choose a jeweller based on their skill rather than their price. Engagement rings that are unusually thin, thick or contain delicate gems can be particularly sensitive to re-sizing, making the jeweller you choose an ever-important decision. 
Always make sure the jeweller has insurance to cover any damage they might inadvertently cause to your ring, especially if you do not have any yourself. It doesn't hurt to be fully prepared.  
4. Agree on a guest list size
Images via Pinterest
The size of your wedding is a choice that can be determined by many different factors. You might feel pressured to invite everyone you work with, speak to and socialise with. Brides and grooms with large families often have the internal battle over who they ask and who they don't which can cause a lot of stress. 
By agreeing on a wedding size early-on, you will be able to be more honest about your guest-list and explain from the start who will and will not be invited. Doing this early on and will also prevent you from over-inviting only to find that your guest-list is pushing you so over budget that you have to compromise on other details. 
If opting for a small wedding and you and your partner are finding it difficult to cut down the guest list, think about who you will be friends with in 20 years time. Who will still be in your life?
5. Booking appointments to see venues
Images via Pinterest
Now for the fun part. You might have been thinking about your wedding for a while, or you might have been to a few weddings and have a distinct idea of what you would like for your own. Either way, exploring different venues soon after your engagement is a good idea as many get booked up many months and years in advance. Try to co-ordinate seeing a few back to back so you can nail the visits in a day or two.
Have a list of questions ready for the venue. This will save lots of emails and phone calls back and forth. A face-to-face meeting can be really efficient. Don't forget this may be your only visit to the venue before you get married, so take some pictures (if you're allowed) and bring a note pad so you can jot down some ideas on decor and what you're working with. 
6. Send your save the date cards
After you have booked a venue and a date, start rallying your guests by sending out a 'save the date' card. Doing this will prevent anyone making plans that would accidentally clash with your big day. Set the tone for your day with some of our beautiful designs and secure that date with your family and friends. You can browse through our save the date cards here.