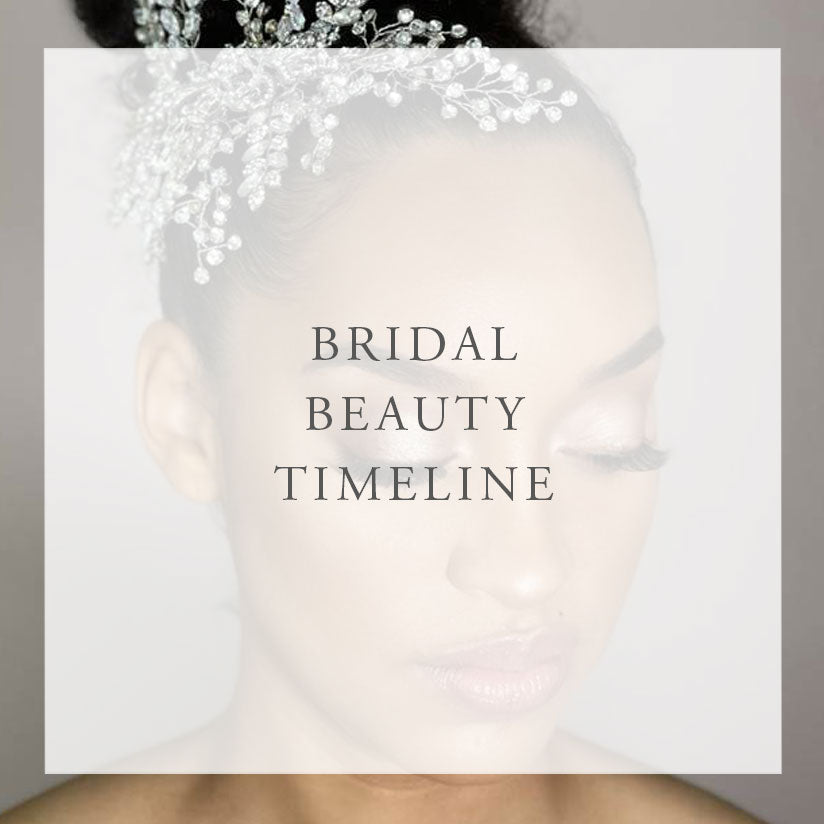 Of course, it is natural to want to look your best on your wedding day. With all eyes on you and pictures that will last a lifetime, you might make perfection the order of the day. However, bridal beauty is a topic that can leave any bride feeling overwhelmed and confused. There is so much information out there that it can be hard to know where to start and what is relevant to your look and style. To help you figure out a plan for your look we have pulled together a timeline for what, when and how you should make your beauty preparations. 
You're engaged! 
Congratulations, first of all. The engagement period is complete bliss; it is the time where you can brainstorm specific ideas, concepts and consider the different ways you can make your wedding unique. It is likely that you will think about a provisional date for the wedding, even if it is as vague as a season and a year. When you have done this, you'll know how much time you have ahead of you for planning and achieving your beauty goals. 
Research 
Use this particular time to hunt through Pinterest boards, Instagram accounts and creative, wedding-specific blogs for ideas and more importantly, images to build and create your own beauty mood board. Doing this will allow you to identify goals and start some early research into specialists. For example, you may think your wedding is the perfect opportunity to have your smile improved through dental work, or alternatively, you may decide that you want to give your hairstyle an overhaul. These kinds of decisions need prep and time to be able to work well enough to achieve your vision. 
Face
Almost as soon as your engagement ring is on your finger, the golden rule for any beauty regime should be followed. Invest in a good SPF and wear it daily, whether the sun is shining brightly or not. UV rays are one of the prime causes of premature ageing, sun spots and skin discolouration, none of which are on your wishlist for your wedding day. 

If you have the means to be able to do so, it is also worth booking an appointment with a dermatologist who will be able to discuss any skin concerns with you and provide you with information on what tonics, creams and serums will best serve your skin in the run-up to your wedding. You can also use beauty blogs, both Sali Hughes and Nadine Baggot offer fantastic resources for skin advice and product reviews for all forms of concerns, ages, and skin profiles. Try to avoid going with the mainstream consensus and buying products with ingredients you have heard of but might not be suitable for you. 
When you have identified the right form of products for your skin, try to start using them as soon as possible, following any intricacies of a prescribed treatment plan. It takes 45-days for a product to take effect on the skin so be patient, start early and you will be able to assess exact results before making any changes, all with plenty of time before the big day. 
Checklist for the engagement period: 
Develop a beauty mood board and identify your individual beauty goals 

Research any specialists that might be able to help you achieve your dream look 

Start wearing SPF daily if you aren't already 

Work with a dermatologist or beauty professional to identify a skincare plan unique to your profile 
Six months to go 
Face
While makeup can work wonders, some of you might want to look at more longterm tweaks you can make with the use of cosmetic aesthetics and injectibles. If you are interested in making any non-surgical enhancements such as laser hair removal, botox, facial fillers, or lip, chin or jaw augmentations then now is the time to start. 
A respectable practitioner (always choose a doctor and never a beautician) will never make too many changes at one time. Instead, they will produce a treatment plan to meet your goals that are spread across several months and appointments. This will leave you with a natural look and nothing that looks like a marked difference and leaves you feeling less 'you.' 
Body
Six months before the wedding, you might also want to tone up some of the areas of your body you will have on display. For many brides, this is often their arms if they are wearing strapless dresses. For others, it may be that they want to generally slim down and tone up across their entire body. Whatever your fitness and physical goals in this regard, six months is a healthy amount of time to achieve the changes you have in mind without having to crash diet or undergo any drastic or intensive regimes that can leave you feeling burned out and exhausted, especially with the added pressure of wedding planning on top. 
There are now tonnes of fantastic apps you can download on your phone if you feel that a gym is too much of a commitment and do not want to work with a trainer. SWEAT is ideal for those short on time and equipment as the workouts are no longer than 28-minutes long, can be done from the comfort of your home and come with meal plans too. The cost is low, around £20 per month for the paid subscription that you can cancel any time. 
Hair
The other key consideration six months before your wedding is any colour changes you want to make to your hair. Again, a good hairdresser and colourist would not let you make drastic changes in one go, both for the sake of your hair and for the result itself. Instead, they will advise you to have smaller, more frequent changes made over time to ensure you get the colour you want without causing damage by drying out your hair, thinning it or worse, causing breakages. Subtle colour changes may need something as low maintenance as regular toners applied to the hair; however, a full colour-change will be more complicated and require much more active management. Particularly if you have been self-dying your hair for any time. 
Finally, start looking into which hair and makeup artists you want to book for your wedding day. Some of the more popular professionals can get booked up to a year in advance so factor this into your planning if you are getting married in peak season. 

Six months to go checklist:
If you are inclined to have any non-surgical procedures, find a reputable doctor and negotiate a treatment plan with them now

Book to see a hair colourist for any substantial hair transformations you want to make 

Identify a short list of ideal hair and makeup artists you wish to book for your wedding day and book them as soon as possible 

Start an exercise regime either at home or in the gym to target any changes to your physique that you are keen to see 
Three months to go 
Face
With only three months to go, now is the time to indulge a bit more. Whether that be with monthly facials that target your skin concerns and keep the pores clean and unclogged or combined peels and light therapies to smooth out your base. 
If your eyebrows have been neglected, then you may want to start thinking about making regular eyebrow appointments to shape and sculpt them to perfection. Some women may want to grow their eyebrows out so they are thicker, while others may want to look at microblading or semi-permanent makeup, all of which we would suggest planning as far in advance as possible, although makeup can serve as a fantastic way of creating dream brows without a long maintenance plan. 
Hair
You should have already started garnering traction on hair colour changes, but now would be the time that you might want to consider any hair extensions needed to lengthen or thicken your hair. You will need these put in before you have your hair trial so that your hair stylist is getting an authentic feel for how your hair will hold on the day. 
At this stage, you should be booking in the trials for your hair and makeup. While some people suggest that waiting until two weeks before your wedding is enough for the trial, we would advise that you stretch it out further than this in case there are any significant changes you want to make to your look, or more importantly to the professionals you have booked. They will also be able to prepare you in terms of what to do and what not to do to your skin in the run up to your wedding day, giving you enough time to factor this information and plan accordingly.
Body
On the subject of trials, if you are considering a spray tan before your wedding day then now is also the time to try these out. You will want to be able to see what the hues will look like on your specific skin, as well as how your skin responds to it. The last thing you want is to book a spray tan without trialling it only to find it has a pungent smell that overshadows your bridal fragrance choice and irritates your skin leaving it patchy or inflamed. 
If you were making an effort to lose weight, tone up or get fitter in the lead up to your wedding, then you may have already changed your diet. Even if changing your physique is not your goal, now is an excellent time to embark on healthier food choices. Not only will eating a good diet of reduced dairy, but salt and sugar also prevent you from looking or feeling bloated, it will provide you with increased energy which is just what you need for this final stretch of planning. 
Lifestyle
If you can combine a healthier lifestyle with at least two litres of water daily, then your skin will thank you for it too. Although making healthier food choices at any time of your life is beneficial, by starting this early you will give your body time to adjust and flush out any hovering toxins which can result in a few breakouts or mood changes. If you implement the diet change now, then you should be able to avoid any of these drawbacks closer to the wedding day itself. 
Three months to go checklist:
Book in a few facials for before your wedding to give your skin an excellent base on which to layer makeup 

Have regular eyebrow shaping appointments and avoid overplucking or tweezing at home 

Have any planned hair extensions fitted or buy the hair pieces you intend to use on your wedding day 

Go for your hair, makeup and tan trials 

Drinks lots of water and implement slight but positive dietary changes 
One month to go 
Body
By now, a lot of your beauty preparations should already be in place, and hopefully, you are seeing positive changes that are leaving you feeling confident for your wedding day. With one month left to go, you should ensure that you have picked out a nail colour for your wedding as your fingers and hands will be in a lot of photos. Take care to moisturise too, so your hands look supple and youthful. A good cuticle oil wouldn't be out of place. 
If you haven't been doing so already, start exfoliating your body a couple of times a week and moisturising with a thick body balm that locks in hydration so that your body is soft and supple at your wedding. Pay particular attention to parts of your body like your elbows and the backs of your arms which can accumulate dry and dead skin and are likely to be on display on your wedding day. 
Face
The other part of your body that might be receiving extra attention is your lips, which we can easily neglect. Avoid this by buying a lip exfoliator and heavy duty lip balm, or alternatively, use a flannel to exfoliate them a few times a week and slather on balm before bed. This will leave an excellent base for your lipstick, ensuring it stays on for longer and also make lips look more full for any close-up photos of the 'you may the kiss the bride' moment. 
If you can, cut out any teeth staining drinks such as caffeinated sodas, coffee and red wine. Switch to a teeth-whitening toothpaste and start preparing for plenty of smiling. 
You might also be considering wearing eyelash extensions, then try them now as you will definitely need a patch test and some to decide whether or not they are comfortable enough for you to wear. 
Hair
A month before your wedding is also the ideal time to have your last hair trim. Know that you don't want to do anything drastic, just a very light trim to keep your hair in peak condition, blend your extensions if you have them and ensure that come your wedding day the ends are neither blunt nor split. 
One month to go checklist: 
Find your ideal nail colour shade and book an appointment for the day before your wedding 

Exfoliate and moisturise the body, paying attention to the elbows, arms and decolletage 

Have a final hair trim 

Have a patch test/trial run of eyelash extensions 
One week to go
Body 
You would have done everything you possibly can to achieve your look and should be feeling evermore beautiful. The week before your wedding is an excellent time to have a lymphatic drainage facial and massage to move fluid out of your body. Make sure that you stay extra hydrated in this week so that your body can flush out excess fluids and toxins, the less you drink, the more fluid your body will try to retain thus causing bloating. 
Face
Have your last eyebrow appointment for threading or tinting and book in your waxing appointments for other parts of the body. A week will give you enough time to reduce any redness or soreness, moisturise the soft skin but won't be long enough for you to have to worry about re-growth. 
Lifestyle
Whatever you do, don't be tempted to try anything new this week. Avoid strenuous exercise that could cause injury, do not apply any clay or detoxifying masks as this could draw impurities to the surface and create spots and try to steer clear of the sun, so you don't risk any unruly tan lines appearing.
Two days before
You are almost there and what a journey it has been. All that is left to do is have your nail appointment which should be nothing but relaxing. We would suggest a gel manicure so that there is no risk of chipping or fading. Have your tan applied so that there is enough time for it to sink in without risk of transferring onto your dress and if you have chosen to do so, have your eyelash extensions applied so you can minimise the use of mascara (a good idea for emotional brides). 
Every bride will have a different journey when it comes to achieving their dream bridal look. The sheer happiness of taking this step in your life and relationship will give you a stunning glow, and we can guarantee your husband or wife to be will have never seen a more beautiful version of you regardless of what prep you undertake. Bridal beauty should be fun and enjoyable rather than something you feel compelled to go through. We hope this timeline helps you consider different options and plan whatever is right for you in a more manageable fashion.