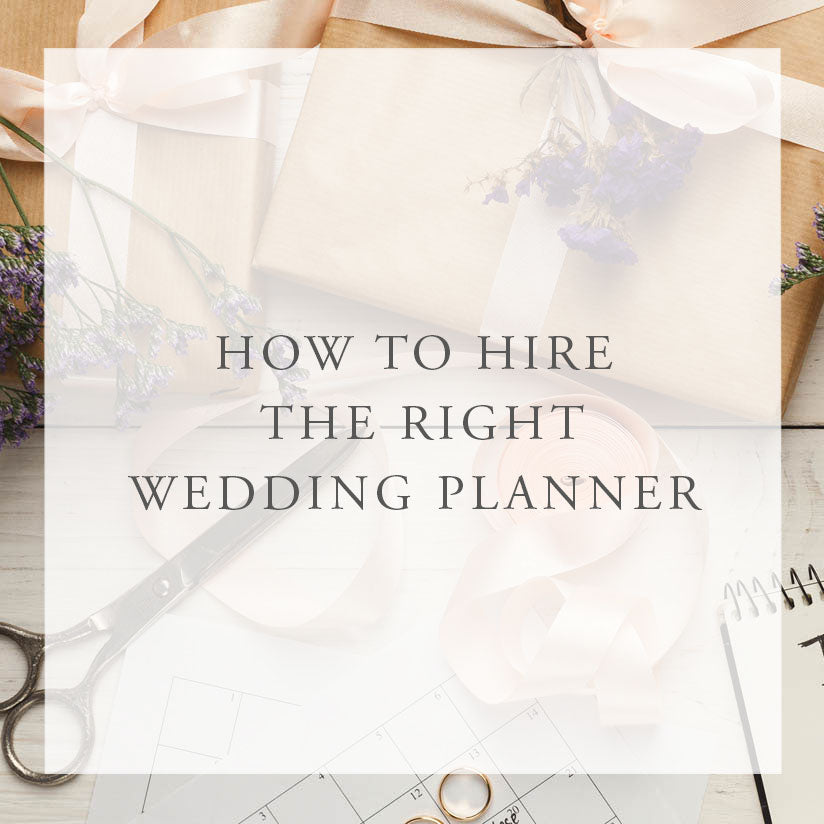 How to Hire the Right Wedding Planner
Statistically, the average couple could spend between 250-300 hours planning their wedding, and that's if it's not particularly complicated. Aside from your wedding day causing a lot of 'wedmin', it can also be quite stressful being responsible for everything on the day itself. These reasons are perhaps the most prominent ones that urge couples to enlist the help of a wedding planner. 
However, hiring a wedding planner can bring with it its own complications as there are so many planners available within this vast industry. If you have decided that help is what you need, then follow our best advice for finding the best fit for you. 
Understand what you want from a wedding planner.
The planner that you eventually settle with will depend on what you really need from them. For some couples, it might be the organisation itself, keeping on top of budgets, suppliers, contracts and general back and forth emails. Other couples may want someone to assist them that has a bank of creative ideas, suggestions and an extensive network from which to hand-select the best suppliers in the business. Alternatively, another common reason for hiring a wedding planner is if you are set on a destination wedding. In these cases, it is almost essential to have a localised agent representing you, mainly if language differences are at play but also for peace of mine that they will have concrete experience with the area, location, and intricacies that could come into effect on the day of your wedding that you may not have otherwise considered.  Another critical factor is whether or not you need your wedding planner to do the background admin and planning or whether you also need them to be on site on the wedding day too. Determining which kind of help you require will enable you to find the wedding planner that is right for you. 
Look at their previous work and reviews. 
You should always carry out checks on prospective vendors for your wedding, whether it is a supplier or the wedding planner. Do your research and read up on their reviews online, on their social media websites and if you can find them on forums. It is easy to look at pictures of a wedding and foresee a perfect day, but in reality, photos can mask a lot of hiccups and may not be wholly representative of how smoothly the day ran. You are potentially trusting another person or business with one of the most important days of your life and as such their previous work and experience should be representative of what you want to achieve. For example, if you find a wedding planner that has tonnes of experience with organising beach-side destination weddings that is fantastic, but they may not be the ideal port of call for your inter-city wedding requiring lots of logistical considerations. 
Understand the billing and charging policy. 
The way wedding planners charge their clients varies. For some businesses, they may charge a percentage of the overall wedding budget. Others may charge by the hour or provide a flat fee based on the initial proposal and complication of the wedding. Either way, it is vital that you have an estimated cost in mind before you sign the contract. If your wedding planner charges a percentage of the overall spend, you need to be able to trust that they are actively sourcing the best prices for you when enquiring and booking vendors. On the flip side, if they are working on a flat fee basis, understand that should your requirements change drastically or should need significantly more time and planning that they may not be able to accommodate you or will be able to but at an increased rate that may not be within your budget. Understanding the terms of the contract is critical as the last thing you would want is a controversial clause cropping up and adding an enormous amount of stress or distaste to your wedding. 
Share the same vision. 
A picture can say a thousand words which is why we strongly recommend that you share a mood board with your wedding planner so that you can ensure that you have the same vision. After your initial conversations with various wedding planners, you should receive a visual outline of their thought process and understanding of your dream day. If their proposal isn't what you had in mind, then it may be an indication that you have an underlying miscommunication between the two of you which could be problematic if it continued throughout the process. Your wedding planner is enlisted to make life easier, if you feel that you will need to keep explaining concepts and ideas, then you may feel frustrated. Instead, focus on finding an individual or a business that seems to understand you quickly and effortlessly. 
Meet in person. 
When you have narrowed down a shortlist of potential wedding planners, you should always meet them in person too. You will need to be able to connect with your wedding planner and form a bond with them. This is particularly important if you are working with an agency rather than an individual. If they are part of an agency, then make sure you find out whether or not you will be passed amongst a group of wedding planners or whether you will have dedicated support. If you are working with an individual, then you will want to know what happens if for some reason they are absent or unavailable. Regardless of their business set-up though, being able to communicate with ease, understand each other and have the flexibility to email or meet in person based on your preferences is something that should be factored into your decision-making process.
Apart from saving you time, wedding planners can be a fantastic investment when you take into account their wealth of experience, their knowledge and their ease with which they can negotiate rates and contracts on your behalf. Good communication with your wedding planner will be essential, and you will need to do your research before committing to one person in particular but in the end, the wedding day that you end up with could be that much better for the additional input, creativity and organisation that your wedding planner can provide. A few of our favourites are Tebbey & Co, For the Love o Weddings, The Purple Chair, The Stars Inside & Devine Bride