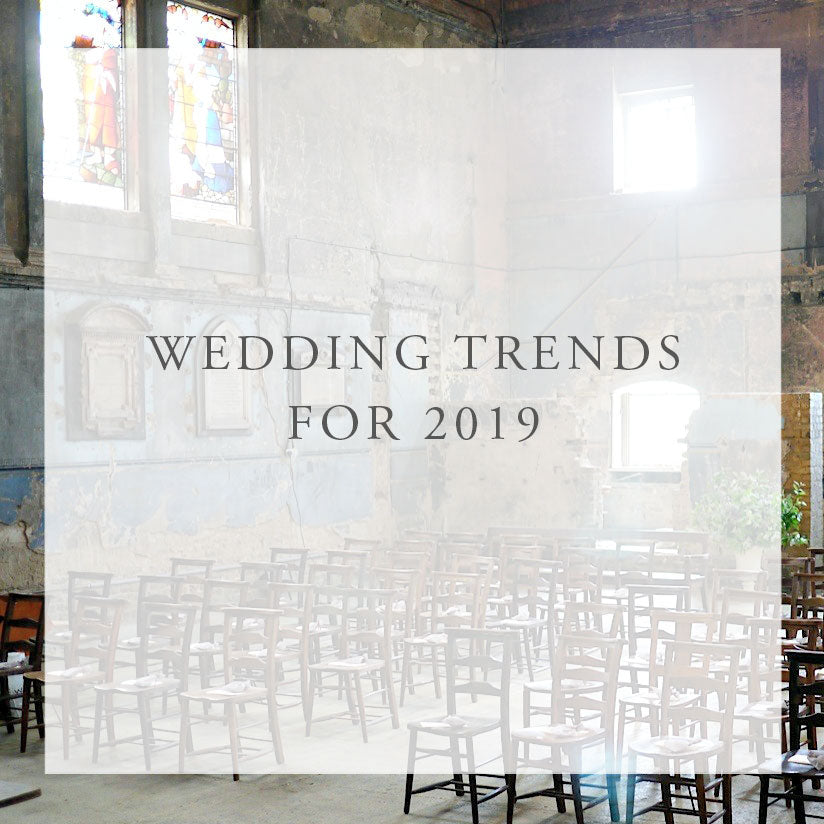 Every new year brings with it new outlooks, resolutions and of course, new trends. For the wedding industry this year, we've listed a few unique ideas which we think will be big for 2019. From flower installations to donut walls, there lots to be inspired by.
VENUES 
As brides and grooms search out ways to make their wedding day more individual and unique to them, stripped back venues are emerging as ideal locations. Industrial style buildings with rugged interiors and exposed brick walls provide a balance of atmosphere and intrigue with the creative freedom to make the space entirely unique for your day. 
Images from Emilie White Photography
Imagination and creativity are your critical requirements for this trend. Being able to bring your vision to life and create something completely unique might be hard work, but you will never have to worry about having a stock wedding again. East London is a haven for venues of this kind while the North also has a generous offering to choose from. Our favourites are Area, MC Motors, Asylum Chapel and Caroline Gardens Chapel, all in the South-East. 
Space: APEX in Shoredtich. Images from JJ Media & Marshal Gray Photography
FLOWERS 
2017 and 2018 may have been the year of the flower wall, but things are changing this year. Florists specialising in wedding designs are reporting an increased request for dried flowers, a move that marks a shift towards reducing waste and exploring ideas for a more wild, boho and pared down wedding aesthetic. 
Not only are dried flowers ideal for flower installations and structures (something that is becoming much more on-trend than a flower wall), they also double up as fantastic keepsakes given the longevity that they provide. Other ways brides and grooms are using dried flowers include as place-settings, confetti, and as stationery decoration. 
If you want to explore this trend but don't want to miss out on having some fresh bouquets, speak to your florist about combining fresh and dried flowers for a best of both worlds approach. We love the way Atelier Prairies at rock.
Images from Atelier Prairies
SIGNAGE
Signs are often used at weddings to steer guests in the right direction. This is set to continue. However, a slight addition to this is an Order of the Day board. Most couples provide guests with a schedule of the celebrations by way of an order of the day card. This year, it looks like the order of the day boards will become the preferred way to keep guests on track and aware of the timings of the day. 
Images from Lilac & White.
Not only do they look fantastic on the day, but some may also argue that it is simpler and provides a centre point for people to refer back to throughout the day. 
Easily transportable and with an array of designs and styles to choose from, this is one trend that we are very excited about. You can shop our range here.
We also love that this trend links so nicely with the acrylic and transparent decor trend that is also continuing to be popular in 2019. 
DÉCOR 
Last year, we saw a lot of transparency in wedding décor, and that isn't set to go out of style any time soon. 2019 brings a broader use of transparent furniture and tableware in the form of charger plates, ghost chairs and candle holders. What we really love about this trend is that it gives you creative freedom to dress the scene and highlight the features of your ceremony room or dining setting without bulky furniture obstructing the aesthetic. What's even better about it is that you can use transparency to work with both minimalist, romantic and bold themes. 
Left Image: Planning & Styling - Vanilla Rose Weddings | Photography - Millar Cole Photography | Furniture - Wedhead | Venue - Aynhoe Park
Right Image: https://www.allthingsborrowed.co.uk
At the opposite end of the spectrum is an outdoorsy, rustic lean towards rattan and wicker furniture for guests to rest upon during the wedding day. This trend ties in nicely with outdoor ceremonies and farm to fork dining concepts and provides a prominent theme for the day. 
Worn or outdated furniture can be an inevitable drawback to choosing a wedding venue. However, most places will allow you to bring in your own for a fee. There are a wealth of furniture hire companies that can provide both transparent and rustic styles for you to incorporate into your day.  


FOOD 
Midnight food offerings have been becoming more popular over the last few years, but 2019 is taking this one step further with brides and grooms offering an abundance of choice for their guests. Rather than a bacon sandwich or pizza party at midnight, some couples are opting for full food-stations showcasing different cuisines and mouth-watering options, interactive chefs and plenty of bells and whistles. 
Doughnut walls and dessert tables are tempting guests to enjoy far more than just the traditional wedding cake. It doesn't end there, wedding cakes themselves are changing from the 'naked' style that was so popular last year to an entirely different patisserie concept that means there isn't a crumb of sponge in sight. This is a fantastic way for brides and grooms to introduce less traditional concepts to their wedding or expose their guests to culinary concoctions from other countries. 
Images via Pinterest and Ginger ray
PHOTOGRAPHY & VIDEO 
Each couple will have a photographic style that they prefer over others, be it a tendency for natural and coy or structured and formal shots. This year, we will see more experimentation with colour in the form of released smoke bombs, making for vibrant and arty wedding images of the bride, groom and guests. Although this might not work for everyone, it can be a fun way to introduce contrast into your photos and to the day itself, particularly if it is at opposition to the style of the venue you have chosen. 
The ever popular reportage style of wedding video is also on the increase with most brides and grooms opting for a video that combines music with outtakes from the day, a trailer and a full-length version. 


BRIDAL GOWNS 
The past few years have focused heavily on strapless gowns, but 2019 is set to be the year where sleeves make a comeback. Lace was adorning the latest round of bridal catwalks and replacing delicate veils were dramatic versions fit for a princess. Polka dots are popping up on plenty of designer dresses while more independent designers are also showcasing a growing number of wedding jumpsuit alternatives. Whatever the specific design, it seems that the consensus is that bold is better. 
Left to Right: Sanyukta Stdunstan, Hermione de Paula, Immaclenovias, Lihi Hod
As much as we enjoy exploring the exciting new ideas, you may want to tread with caution when it comes to wedding trends. Incorporating a few is a fantastic way to make sure your wedding day is individual and customised to your tastes, but going overboard might mean you don't look back at the photos and videos with as much fondness when you reach those all-important anniversary milestones. Our advice is to decide whether a trend is 'you' before you add it into your design for the day. After all, it is your wedding.