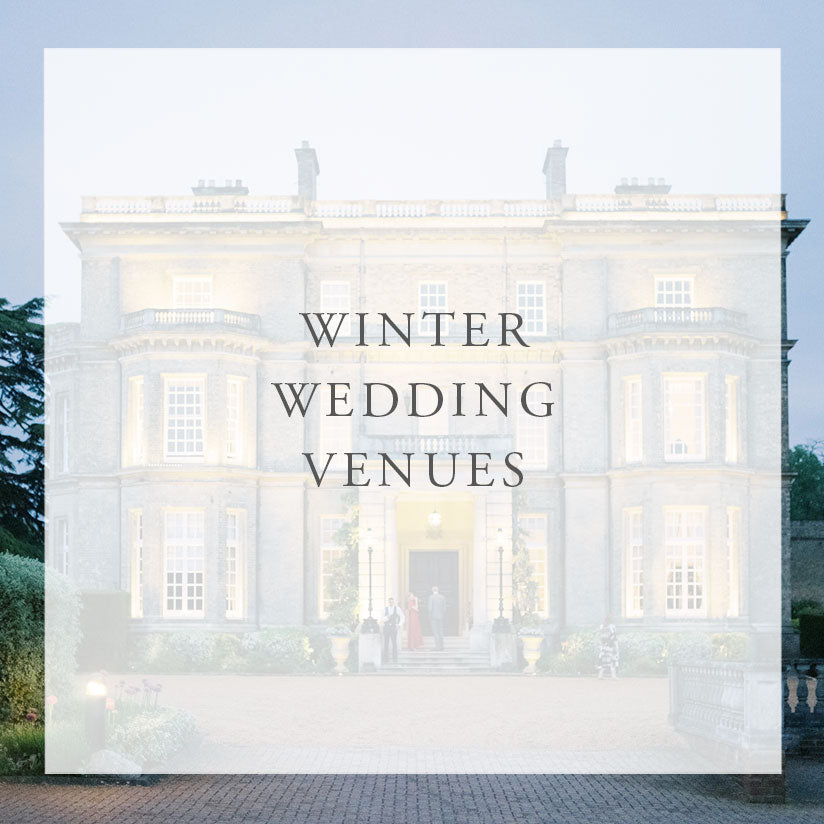 Planning a winter wedding comes with many exciting options and considerations, but perhaps the hardest of all is choosing the appropriate venue. Some couples are hesitant to set a winter wedding date out of concern for the weather, the quality of the photos and the enjoyment of their guests. Last month, we gave you our top tips on how to keep your guests warm, but venue picking is another minefield altogether. This month, we have our roundup of the best winter wedding venues in the South East that will ensure that the weather can't dampen your day and that the photos are nothing short of spectacular. 
The key to choosing a winter wedding venue is visiting the place in person and checking that the interior is in keeping with your theme, style and aesthetic. The interior is a critical consideration because if the weather does storm, rain or drizzle, you are likely to spend most if not all of your time inside. 
Hedsor House
Images from https://www.hedsor.com
Based in Buckinghamshire, close to Cliveden and near commutable Slough, this venue ticks a lot of boxes for a winter wedding. Although stunning in the summer, the real showstopper features are all inside the main house which makes it perfect for a winter wedding. The exclusive hire nature of the property also allows for couples to build individual and creative choices about their interior styling making every wedding at Hedsor House utterly different from the last. 
We also like the vast range of preferred suppliers that Hedsor House recommends. Not only is this convenient for couples with different budgets, but it also means that you have much more freedom and can indulge in creating your perfect day from a beautiful but relatively blank canvas. 
The famous bridal suite stretching across 2500 square meters is a wonder to behold, and something that will take your breath away come rain or shine. Although not a reason to choose an entire venue, we can't picture much more magical than looking out of the bridal suite onto the frosty, snow-glazed country grounds. 
Capacity: 150 people 
Vibe: English Countryside Elegance 
Dartmouth House 
Images from http://dartmouthhouse.co.uk
A hidden gem nestled in the heart of Mayfair, Dartmouth House is a fantastic London-based option for winter weddings. The Georgian features and exquisite interiors provide a stunning backdrop for your ceremony and your party should you wish to keep it all on one site and avoid the chill altogether. 
The venue would particularly suit the darker winter months, with its semi-moody lighting inside creating a fantastic atmosphere for candlelight, deep-rich floral arrangements and winter warmer cocktails. 
Being a London venue, your guests will have the option to choose from hundreds of hotels in the local area which means you can extend your wedding celebration to breakfast the next day and make the most out of this incredible time together.
Capacity: 150 people 
Vibe: Georgian Grandeur 
East Quay
Images from https://www.eqvenue.com/gallery/
While this venue may sound like a traditional summer option, a quick glance at the warm and cosy interior and the romanticised outdoorsy winter photos from other weddings will fill you with inspiration for your winter wedding. Based on Whitstable beach in Kent, this venue has a shabby-chic vibe that is nothing short of unique. 
Although personalisation of the furniture and interiors is restricted, your wedding can stand out from the swarm of others with casual food choices such as fish and chips (the perfect pier food), party games and bohemian decorations. Sumptuous sofas, fairy lighting and the rustic wood features create a cosy feeling that is almost secretive and intimate.
Like the other venues on your list, you are able to have both your ceremony and reception in one place without having to make guests travel to and fro in the cold. However, that doesn't necessarily limit your photo opportunities which can be held inside the venue, outside amongst the working harbour backdrop, on the beach or on the pier. While a rainy day might be inconvenient, a grey day certainly wouldn't be catastrophic. 
Capacity: 120 people 
Vibe: Shabby Chic 
Cripps Barn 
Images from https://crippsandco.com/cripps-barn/
The Cotswolds is an ever-popular place to get married and Cripps Barn nestled in the Gloucester countryside is no exception. The features that make this venue perfect for a winter wedding are extensive. First, the warming fireplaces that can be lit for the duration of your ceremony create an instantly indulgent atmosphere. Combined with the exposed brick walls, wooden beams and sharing style food menus, Cripps provides an atmosphere that is impossible not to love. 
Catering is done on huge BBQs and rotisserie grills so the food your guests will enjoy will be comfortable winter warmers. The exterior fire-pits also make for romantic backdrops to sneak off to if you're keen to take some newlywed time out from the day or to toast marshmallows over with your guests before everyone retires for the evening. 
If Cripps Barn does something well, it is their interior decorating. Lanterns, candles, flares and fires abound and are efficiently organised directly through the venue. Your creative side can come out to play when it comes to arranging your flowers which only serve to enhance the beauty of the barn and form your own wedding winter wonderland. 
Capacity: 150 people 
Vibe: Whimsical Countryside 
Your winter wedding can be truly spectacular. One way to guarantee whether it will work for you on your wedding day is to visit when the weather is expected to be grey, wet or cloudy. You will see the venue in the worst weather conditions and be able to decide whether it has enough appeal to distract from the outside when you come to say 'I do.'