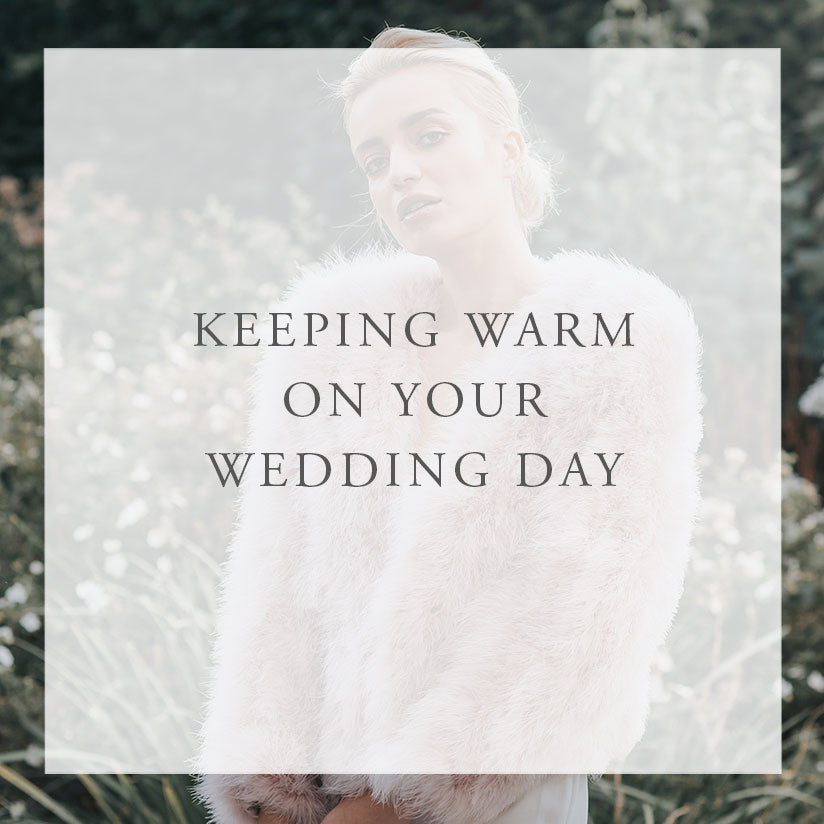 Keeping Warm on your Wedding day
The most popular seasons for a wedding in the UK are without doubt Spring and Summer but don't dismiss the idea of a winter wedding too soon. Unfortunately, the main obstacle to a winter wedding is often the weather and the low temperatures that take over the UK from November. But with the option of roaring fires, twinkling candles and cosy blankets for the ceremony and an array of stunning winter wedding dresses, a winter wedding could be one of the most beautiful options yet. We have hand selected some of the best ways you can make a winter wedding work for you, starting with the bride to be. 
Keeping the Bride Warm 
The dress
Although sleeveless wedding dresses are a strong trend, high necklines and long sleeves are making a sharp comeback judging by the gorgeous designs coming from bridal brands. Monique Lhuillier makes the most of layers of delicate lace and tulle to create the 'Majesty' dress that is princess-worthy yet fully functional for a winter wedding.
While British brand Halfpenny is deviating from the norm by offering brides the option of pairing skirts, tops, belts and intricately detailed coats and over jackets to create the ultimate sophisticated bridal look, a concept that their latest collection does astoundingly well. 
Mira Zwillinger is another designer that has clearly thought about winter brides. The designs in the 'Queen of Ice' collection may not make use of layering and heavy fabrics, but the exquisitely embellished boleros and sequined embroidery will leave the bride glistening with or without frost outside. 
Whichever the designer you choose for your wedding dress, there a few tricks that you can utilise to ensure warmth on your wedding day. Consider whether a strapless slip will add an additional layer and go undetected beneath your wedding dress. Sheer, skin coloured stockings are also ideal to wear under a floor-length wedding dress. Lastly, avoid dresses using chiffon or organza as these won't give you any warmth, although the transparency is beautiful and almost irresistibly on trend for a winter wedding. 
The coats
The exciting part about choosing your bridal look for a winter wedding is that the decisions don't stop at the dress and shoes. Winter weddings can call for dramatic capes and faux fur or feathered boleros that will keep you warm while adding glamour to your overall look. Your cape can either match your dress, or you can select a colour that is within your colour scheme or bouquet. 
Ultra modern brides that are veering away from traditional wedding attire will be able to find a selection of oversized blazers that will give an edgy look, although you should be wary of variations in the tone of colour if you opt for a classic white. 
The latest bridal fashion week in 2018 showed a host of designers creating winter looks that could either be standout pieces alone or toned down to allow your dress to remain centre stage. Of them, Gracy Accad and Ines Di Santo had great full coat options while designers like Pronovias and Berta presented thin, delicate and long capes. 
If a coat sounds like too much, don't rule it out just yet. Buying a jacket will come in handy between pictures when you are likely to be outside for a more extended period of time. You can take it on and off between shots allowing you to avoid the chill and a frozen smile in your photos. 

Here are some gorgeous pieces we have spotted. From left to right, Amanda Wakeley, Asos, Grace Loves Lace, last jacket - unknown.
Keeping the Guests Warm
The ceremony
Whether it is because your guests are waiting for you to arrive or because the stunning ceremonial location is unheated, there are plenty of ways you can keep everyone warm at the ceremony. For example, you can ask the venue if they have fire pits or permit the use of fire pits on the exterior of their property. Failing that, there may be power sockets to allow for outdoor patio heaters. 
A beautiful, personalised touch is supplying guests with your own hand warmers which will keep their hands toasty for up to 30-minutes. Alternatively, providing blankets, shawls, wraps and gloves for guests to use is a nice touch, and something people will be able to keep in memory of your special day. 
Hot and warm canapes will be well appreciated at this stage of your wedding day. Guests are often peckish on arrival to the ceremony and don't quite realise how long it may be before dinner is served. Warm tartlets and cones of warm food will last your guests long enough for your arrival and keep them distracted from the cold in the interim. 
The celebration
Winter weddings are the perfect time to indulge in ceremonial comfort. We envisage winter weddings with roaring log fires, plenty of candles and lanterns and heart-warming refreshments. 
Rather than offer a cold drink on arrival, you can set up a hot chocolate station for people to build their own, cream, marshmallows and a shot of Bailey's, or just a no thrills touch of sweetness. Mulled wine, winter Pimms, whisky cocktails and coffee liqueurs also make for ideal winter reception beverages. 


When it comes to the main meal, seasonal choices will work wonders, especially if it is frosty outside. Soups for starters and baked cheeses for desserts make a nice change from traditional options and can also end up being more filling and satisfying for your guests. 


And finally, perhaps one of the easiest ways to keep your guests warm is to keep them moving. Finding a band or musician with high energy and a diverse set-list will help you get friends and family onto the dancefloor and keep them there for a wedding to remember. 
Winter is a magical time to get married. We associate this season with cosy nights in, festivity and romance. With the right planning and preparation, you won't have to worry about something like the cold weather preventing you from having a perfect celebration.