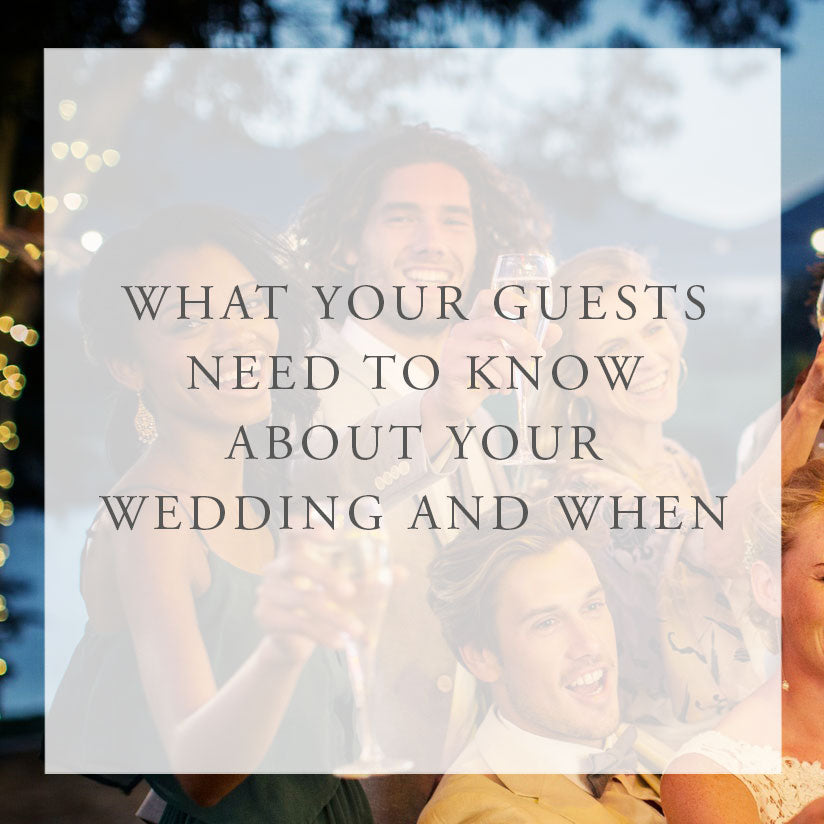 What Your Guests Need to Know About Your Wedding and When
In recent years, weddings have become complicated events consisting of more than a ceremony and dinner. Sometimes there are pre or post parties and dinners, numerous locations involved and well-timed order of the day that must be followed. What might seem obvious to you could be confusing to your guests. We often get asked questions from customers about what content to put on their information cards for example, so here is everything your guests need to know and at what stage you should tell them.
The Engagement 
Save The Date 
As soon as you have chosen your date, the first thing you should do is send out your Save the Date cards. By getting these out early, your guests will be able to plan around your wedding and won't risk missing it because of other commitments. 
The Lead-up 
The Venue 
After your date is finalised and you have found your dream venue, it is time to send out a full invitation including the address of the ceremony and party and any other details that are relevant. For example, do you want guests to join you for dinner the night before, or stay after the wedding for breakfast or lunch? Some couples are choosing to use bespoke wedding websites that collect RSVP's, food choices and allergies and also make room for providing directions, links to gift registries and accommodation suggestions.
Sending out a full invitation as soon as possible is essential, not only for giving yourself ample time to collect RSVP's but mainly if your wedding is further afield or even abroad.  In this case, your guests will need to make travel arrangements, potentially find child or pet sitters and book time off of work.

Guest Policy 
Make it known from early on whether your invite includes a plus one or just those named on the invitation. Some couples prefer to have child-free weddings altogether, while others opt for a partly child-free event. If you are allowing plus ones or children, clarify when you need the final names and if there are any childcare options, babysitters or child-friendly facilities for your guests to use. 
Dress Code 
Be clear with your guests about the dress code from early-on and be prepared to lend some ideas and further information. For example, a black-tie wedding in the summer might be challenging for guests to plan for, in which case a Pinterest mood board that you can share with them would be invaluable. It is worth considering whether the dress code is affected by the timings of the day, for example, early afternoon weddings might not suit full-gowns in the summer but would in the winter. 
Gift Registry 
Your organised guests will want to arrange your wedding gift in advance and pointing them towards your gift registry is an easy way for them to do this. Some couples are asking guests to donate to a charity instead of a wedding gift, which is a nice touch but something that you might need to remind your guests of during the week of the wedding too. 
Planning and prepping
Menu Options 
If you are choosing a set menu for your wedding, then try and send out the final options to your guests as early as possible. If you can do this, then you are less likely to be confronted with last-minute allergies, the type of wedding admin you don't need just before your big day. Alternatively, if you are opting for a buffet style reception, requesting allergy information will help the venue find some alternatives for the diners who have more robust requirements for example vegans or those with strong nut allergies. 
Travel and accommodation 
A lot of venues couples are getting married in around the UK and abroad, also offer accommodation for guests. If you have already hired the rooms as part of your wedding agreement, then welcome the news to your chosen guests. You might also consider holding a group booking of rooms and offering them to your guests to book if they choose to do so. Either way, keeping everyone informed of the accommodation options will be helpful, as this will enable them to plan accordingly, mainly if they need to arrange childcare, live far away from the venue or are part of the bride or groom party. 
If guests are staying off-site, then it may be helpful to equip them with some local taxi numbers so that they can plan their carriages home, in which case, make sure they also know what time the party stops. 
Last minute reminders... 
Timings 
By the time you reach the week of your wedding, the invites that you sent out might be a distant memory. Confirm schedules with your guests either with a standing board outside the venue or with an email before arrival. Your guests will want to know what time they should arrive for the ceremony as well as timings for drinks receptions and the evening celebrations. If you are arranging en masse transport to take your guests from the service to the evening entertainment, then make this clear too so that guests can plan accordingly and avoid being late and holding up the party. 
Bar policy 
If there is a bar available during the evening, then inform your guests if they can pay by card and cash as some venues might only accept the latter. Likewise, some guests may assume that the wedding is all expenses paid, in which case a gentle reminder they should bring their wallets might not go amiss. 
Social media and photography 
Your friends and family are going to be excited to watch you say 'I do' and will want to capture the moment. Reminding guests about your personal wedding hashtag will mean you can see everything caught on social media in the hazy post-wedding days that follow. Some couples are also asking guests not to use their phones to capture photos and videos during the more intimate moments of the day, so as not to distract from the experience and to give the hired photographers and videographers full autonomy over the memory capturing. 
After the enormous effort of planning for your wedding, reminding your guests of the details will make sure that everything you have worked for goes to plan. We recommend making a list of dates to send out reminders to your guests and luckily for you.
Browse our collections for inspiration of pre wedding day stationery and on-the-day items here.