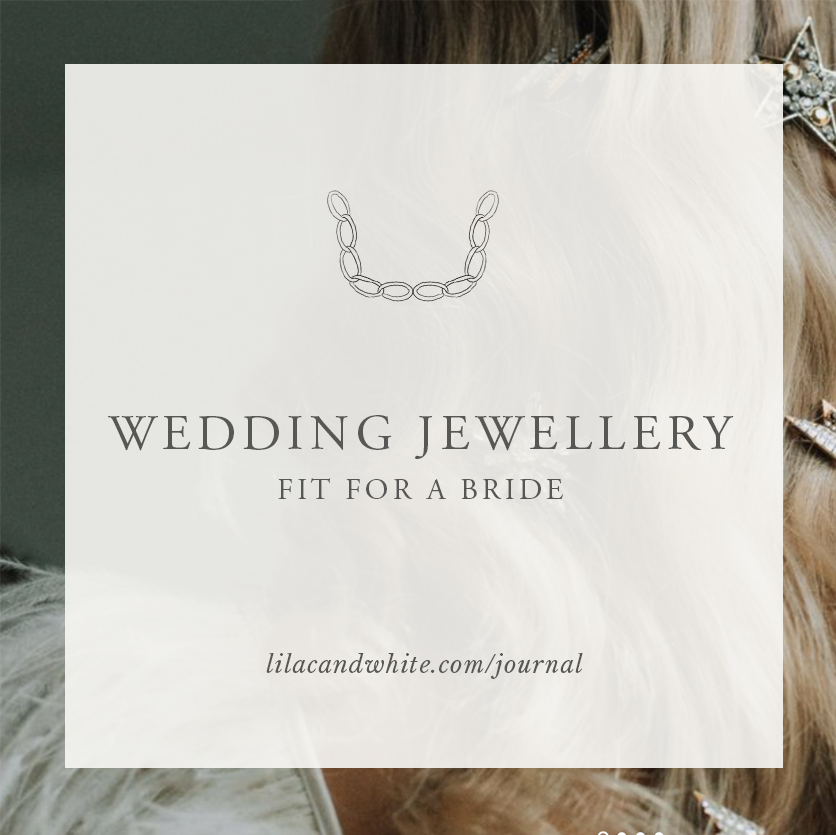 Wedding Jewellery Fit for a Bride
Your wedding might be one of the only days in your life when you can be bathed in an array of beautiful lace, delicate diamonds and a tiara fit for a queen. Luckily, bridal jewellery has become increasingly popular and more finely designed in recent years, meeting this sparkle and shine bridal prerogative. This rise in popularity means that it is now possible for brides to find the perfect balance between luxurious sparkle and highstreet glean without having to compromise along the way. Although an excess of choice is better than having limited options, it is worth narrowing down your search based on some of our favoured principles below. 



Make ordered decisions
If there is one thing that you shouldn't do when buying wedding jewellery is buy it before you have chosen your dress. Your wedding dress might be the most critical indicator as to what pieces you should wear on the day. Similarly, your veil is another crucial deciding factor. You might already know if you want to wear one or not, but this decision will also have an impact on what jewellery you should wear. Birdcage style veils look beautiful with jewelled or embellished headpieces; however, long lacey and intricate veils won't be as compatible with a lot of additional detailing around the face. Instead, you might prefer to wear a bracelet or a statement belt or sash around the waist instead. 

Make just the one statement. 
When picking your wedding jewellery, decide which piece should be the statement piece and then ensure that anything you choose after that is understated and demure. You don't want to make a lot of individual statements on your wedding day, you are the statement. Find one thing to compliment that with and then build around that. When you have found your focal item, picking the rest out should become more relaxed and more straightforward. 
Blend 
Planning a wedding and designing a theme and aesthetic requires a lot of effort, thought and dedication. Avoid a magpie mentality and remember to select jewellery that blends in with the broader look. You don't want your jewellery to become the focal point; instead, it should be there to serve you, compliment you and add another dimension to your beauty, not overpower it. For some brides, perhaps those wearing dresses with detailed necklines, this may mean opting for less individual pieces; choosing a simple pair of earrings and an ornate hairpiece instead of a necklace. For other brides, it may mean picking intricate pieces that counter the simplicity of their dresses, for example, brooches, elaborate necklaces or dropped earrings. Whatever it means for you, don't commit to anything until you have seen it on with your dress, shoes and veil. If it isn't adding something special, then you would better off forgoing it altogether. 
Colour Coordinate 
Your wedding and engagement ring may be made of the most beautiful platinum with clear-cut diamonds, but that doesn't mean that your wedding jewellery must necessarily be made of the same. After all, your ring is its own entity. White dresses, it is correct, do suit platinum, silver and pearl jewellery best. However, if your dress is ivory, you can explore alternative colours such as gold, and antique or family heirloom pieces that will compliment the creamy hues of the ivory. Your wedding day isn't necessarily the right time to try something new, stick with shades that you know work with your skin tone and overall style so that you don't risk feeling uncomfortable on the day. It is also wise to avoid fashionable or trendy jewellery that might be at risk of looking cheap or dated when you are flicking through your wedding photos in just a few short years. 


Switch it up 
Remember that you can wear different jewellery for your evening party or reception after the majority of your photos have been taken. Feel free to mix it up, experiment more with different styles or larger pieces that will be free of conflict from your veil. Many brides have their makeup redone for a more dramatic effect or change dresses for the evening reception. It is the perfect excuse to try out two looks that just couldn't choose between. 
Our favourite bridal jewellery designers right now:
Tilly Thomas Lux 
Owner and designer Sally uses the most exquisite materials to design bespoke pieces of jewellery for brides, taking into account their individual style, personality and budget. From decadent earrings, hairpins and crowns to unique headbands and combs, Tilly Thomas Lux has everything a bride could dream of. Their bespoke service is also perfect for brides that have a distinct vision in mind that needs complete personalisation. 
Bario Neal 
Unlike many a jewellery brand, Bario Neal has made a strong and determined effort to create an entirely ethical brand void of any harmful mining activity. Their designs are influenced by stories, designed in-house and made with reclaimed precious metals. Bario Neal might be one of the most perfect options for brides looking for colourful gems or bands that veer away from the traditional silver, platinum and pearl. For something extra special you can explore their bespoke and one of a kind ranges that will be just for you, forever. 
Katherine Swaine 
After designing her own wedding jewellery, Katherine took it one step further by launching her collection for sale online. Her designs are inspired by vintage pieces which evoke a feeling of nostalgia and old glamour for brides to be. If you are looking for your 'something old', then you can take refuge in Katherine's one-off and real vintage pieces. The budget-friendly price tags on this jewellery won't make you baulk if you only wear these items on your wedding day, but the beauty of them might. 
Monica Vinader 
The wedding collection from Monica Vinader is perfect for classic brides who are intent on not letting the jewellery steal the show. The pieces are timeless and elegant, well balanced and affordable. The subtle designs make this the go-to jewellery brand if you are keen to continue wearing these items at future events. What's more, the collection features many different metals and colours meaning you can find something perfect for you, no matter the style and fabric of your dress. 
Lark & Berry 
While not cheap, Lark & Berry have set out to create stunning pieces of jewellery without the diamond price tag. They have made it clear that their vision of expense surpasses that of pound notes spent and also includes the vast cost of environmental damage. There is no doubt that Lark & Berry are selling 'fine' jewellery, the only difference is you can have a clean conscience when you wear it. Colours, designs and prices are varied at Lark & Berry which is a good thing for all of us.