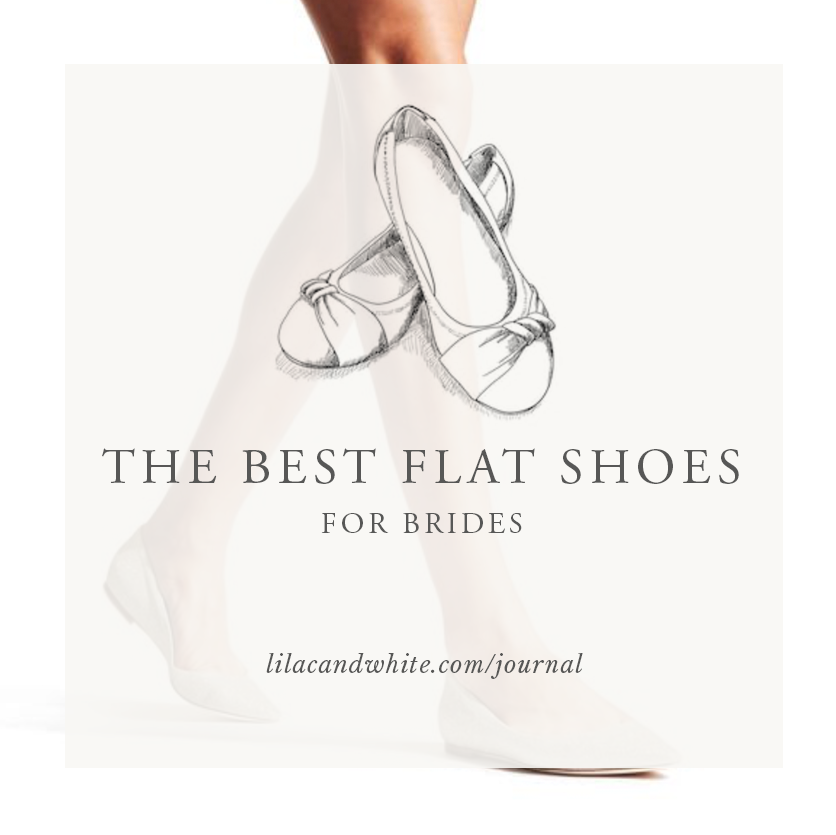 The Best Flat Shoes for Brides
One of our favourite things (after stationery) is admiring the beautiful choices brides make for their head-to-toe look on their wedding day. From ornate veils to delicate lacing on intricately designed dresses, the details are mesmerising. Coincidentally this month, the heat wave in the UK has steered our thoughts towards combining style with comfort and how you can avoid overheating during your ceremony and celebrations. 
Of these thoughts, the one that stood out the most was transitioning from heeled shoes to beautiful flat shoes for your wedding day instead. Wearing flat shoes might sound less indulgent, but with both designer and high-street stores creating stunning styles, you will be hard pressed to not consider some of these brands and styles as a fantastic option. 
1.    Jimmy Choo 
immy Choo has long been a favourite of brides around the world. Their classic, understatedly luxurious designs mean that you can wear your shoes in the days after your weddings without receiving a raised eyebrow from passers-by. They have a range of different sized heels available, but their flat wedding shoes and micro heels are just as enviable. 
Unlike a large number of designers, Jimmy Choo have avoided the one size fits all model by offering a made to order service. You might find this particularly convenient if you are looking for a specific style and colour. 
Opt for the Romy Flat for some understated sparkle (£495) or the Romy Flat in lace (£495)  which is a more delicate version of the same shoe. 
2.    Manolo Blahnik 
If you have had your eye on a pair of iconic Manolo's for some time, then your wedding day might be the perfect excuse to take the plunge. Manolo Blahnik has replicated their famous design in a flat shoe so that you can maximise style and comfort simultaneously. What makes Manolo an even better choice is their variety of open toe, closed toe and micro-heel options. 
Our favourite was the open toe, slip on bridal shoe 'Martamod Bride' (£745). Not only is it intricately put together with Swarovski crystals and silk, but it is also the answer to garden or beach weddings where a combination of heat and unlevelled ground are likely to challenge your poise. 
3. Aquazzura 
If variety is what you need to choose your wedding shoes, then you will not be disappointed at Aquazurra. They have the most extensive selection of flat bridal footwear we have seen from designer brands, each with a distinct wow factor. 
From crystals to floral embellishments and subtle strap details, Aquqazzura has captured the epitome of a luxury flat shoe in their designs. Although the options are predominantly open-toe, they would be perfect for weddings that have guaranteed (or close to it) good weather or an indoor service and reception. 
The Mustique (£640) was one of our favourites. Both eye-catching and comfortable which is a sure win for your wedding. 
4. L K Bennett 
Without a doubt, one of the most exciting wedding collaborations was between L K Bennett and Jenny Packham. The collection hosts both open and closed toe flat shoes as well as micro block heels which are another comfortable competitor to a standard heel. 
Most of the styles are strappy, delicate and feminine. Unlike some other designers and shoes, these look and feel like a wedding shoe. They are unapologetically occasional without the high-end designer price tag. 
The Cari Ivory Satin flats (£245) stole the show for us. The shoe has everything you would want in a higher heel and is dressed up enough to work for day and night at your wedding. 
5. French Sole 
French Sole is perhaps one of the most subtle and practical brands for flat wedding shoes with their bridal offering comprising a range of decorated ballerina pumps. 
One of our favourites in this category is the Henrietta (£120), an ivory lace shoe that will do its utmost best not to distract from your dress while simultaneously keeping you comfortable and able to dance the evening away. 
With a regular refresh of styles and detailing, French Sole is on a revolving mission to produce the next best Bridal flat pump at a reasonable price.