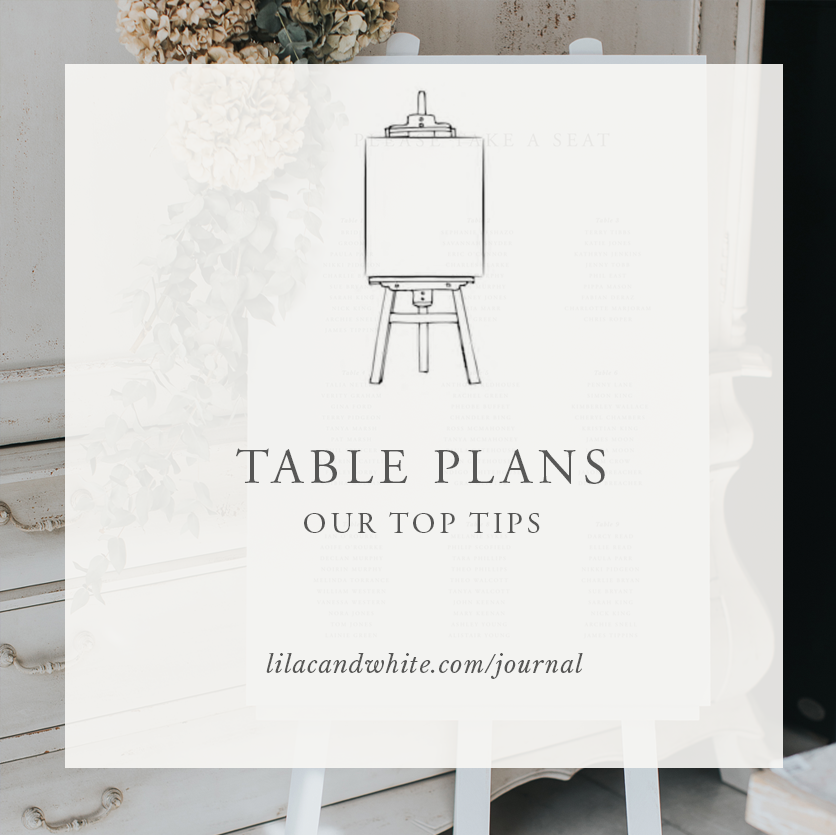 Seating Plans - Our Top Tips
Of all of the wedding planning, you will do in the run-up to your big day, the seating plan can be undoubtedly one of the most trickiest. Traditionally, wedding receptions have consisted of a 'top-table' containing your immediate family and several other tables for the rest of your guests. However, like everything else in life, sometimes seating plans aren't that simple. Blended families, divorced parents and wildly different sets of friends can make organising the attendees into groups a complicated affair. 
If a seating plan is on your list of things to worry about, then read our top tips for getting it right and staying sane along the way. 
First, nail down the basics. 
1. RSVP's
A seating plan is impossible if you don't collect all of your RSVP's. Send out your invitations as early as possible. It will give your guests ample time to plan, configure the logistics, arrange for pet or babysitters and give you plenty of time to schedule your RSVP chaser texts. By sending out your invites in advance (our favourites at the moment are the Emily and Felicity invitations available on our website), you will gain a good idea of who is attending from the outset and hopefully a steady stream of 'yes' responses that you can filter into your seating chart without having a meltdown. Smart websites such as Riley & Grey make an excellent addition to your paper invitations by providing your guests with a digital facility to RSVP and a valuable database for you to keep up to date with responses instead of manually keeping on top of texts, emails and phone-calls. Alternatively,mMost of our invitations are designed with an RSVP postcard style where all your guests have to do is affix a stamp to the back of the card.
. Keep your audience in mind
Identifying your guests that have specific requirements is an easy way to build the base of your seating plan. For example, if you are allowing children to the wedding, you will need to decide whether you would like a children's table or whether children should be sat with their parents. Elderly relatives may be more comfortable sat closer to the exits where they can come to and from the bathrooms more easily. You might have friends with dominant personalities or more care-free tendencies that would do better sat away from conservative family members or colleagues. When you have found a place for these sets of guests, you will be in a better position to seat the more flexible, lower maintenance guests around them.
3. Understand your family politics
Blended families with stepparents, half-siblings, or divorced parents can be complicated to configure at weddings. You won't want to leave anyone feeling dejected or disheartened by your seating choices for them because they are likely to be your nearest and dearest. Instead of having a top-table you might want to explore a series of VIP tables with yourself in the middle, and 'buffer' family members in between those with difficult relations. Keeping the tables hosting your VIP family members the same size and decorated in the same way as each other will also make everyone feel included rather than excluded. Whatever you decide, having candid conversations with your family will help them understand your choices
4. Heed requests with caution
You will likely have friends or family making specific claims for where they are sat or who they are placed next to. In an ideal world you will be able to please everyone, but at weddings, this is rarely the case. Unless there is a glaringly obvious consideration you should be making, do not let the whims of your guests dictate the configuration of your plan, you can't please everyone, and the only people you really should be aiming to please are you and your husband or wife. 
Choosing your layout
After clarifying the basics in your mind, more thought can go into the design of your seating plan. For this, it is a good idea to have a firm hold on what vibe you want for your reception. Is your wedding going to be a formal event or something more laid back? Do you want all eyes on you throughout the day and evening or are you happy to blend in?
Formal
If you have decided you would like a formal wedding, then the ideal seating arrangements for you are likely to include the traditional top-table or tables configured into a large rectangle or U shape. The vibe of your wedding will be more focused on the order of the day and will likely keep your guests in the mind-frame to behave sensibly throughout. Generally, these types of layouts make for less socialising and mingling, but you can work around this by adding a cocktail or champagne reception to the order of the day before the dinner. 
Tip: Show your guests where they are sitting with stationery from our Emma or Elegance ranges. 
Laid back
You might have decided that you would like a laid-back party atmosphere where you are in the crux of the action. If so, you could explore the idea of having circular tables with yours in the middle, tables built around a centrepiece dancefloor or ditch the formal dinner all together in favour of relaxed seating, food stands, stalls, bars and entertainers. If you want to find a mid-way point, then you can reduce or increase the sizes of your tables accordingly depending on whether you want to create a more intimate or vivacious setting. Having this flexibility is also helpful for weddings with children and weddings where there is one side with many more family members than the other. 
Tip: Show your guests where to head to with our Shine and Stardust stationery ranges. 
Tricks to remember
1. You can't please everyone, try, but not too hard. 
2. If you are concerned that people on the table won't get along very well, use tall centrepieces and sit them opposite each other. 
3. Some people are more social than others, an excellent way to even out the atmosphere is to provide menu cards for guests to mull over and discuss, a smart way to break the ice. You could also supply quizzes and dinner table games for when the conversation becomes a bit stale. 
4. Last minute changes happen, but at that point, you should be focusing on enjoying your day and not picking up more wedding admin. Accept that there may be a seat free on one or two tables and use it as an opportunity to let guests make their own decisions and shuffle around if they are desperate. 
5. Sign-up to a website that allows you to digitally arrange your seating plan by uploading your list of RSVPs to the database. Drag and drop features, scaling, design and venue layout features make this a fantastic way to visualise the plan. You will also be able to export the list and send it to us to make your seating plan for the guests, arrange the place cards and allow the wedding venue to be kept in the loop too. 
One final thing, if you give your guests enough fizz, they won't care where they are sat anyway.