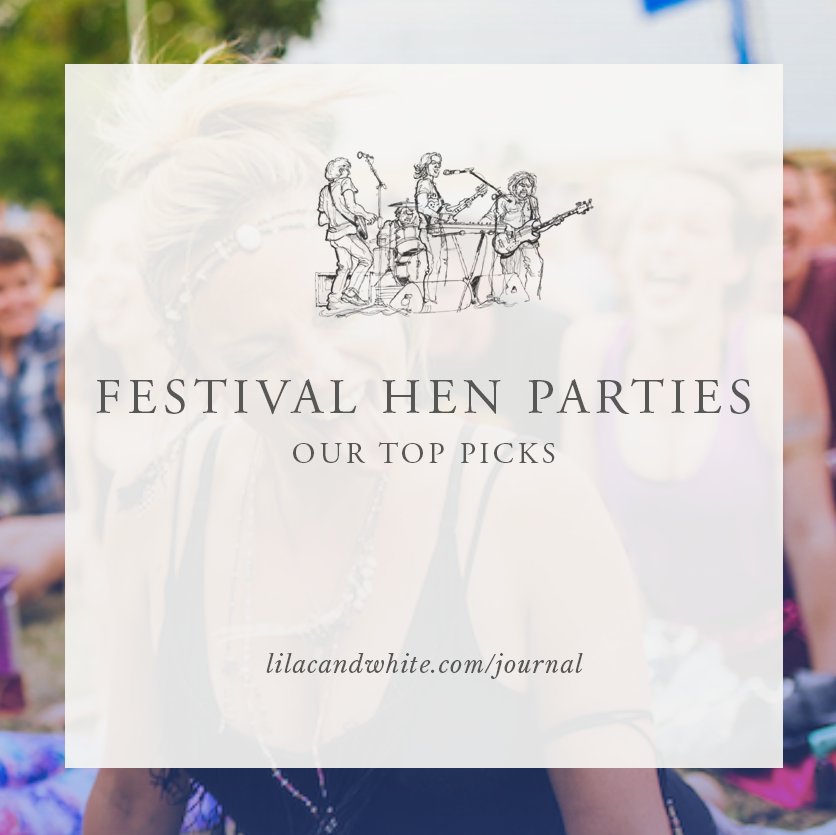 Festival Hen Parties - Our Top Picks
Since 1976 when the Times newspaper first formally referred to a 'hen party', the traditions, activities and style of the parties thrown for brides-to-be have been everchanging. From intimate dinners with our nearest and dearest girlfriends to elongated spa weekends and city break with scheduled activities; there has never been a time where choice has been available in such abundance. 
Stylist found that the average cost of attending a hen-do has reached £507 per person leaving a lot of women feeling stressed and pressured about the affordability. Looking past the price; coordinating dates, activities, travel, outfits, gifts, games and budgets is a hard task for any maid of honour and group of bridesmaids. 
The answer to solve these problems and satisfy not just the bride but everyone invited might come in the form of a festival. A natural haven for groups of friends, it seems like an obvious choice. The opportunity to dress up, experience a range of activities, dance, drink and have fun, travel and bond, are all very much available at a festival. In fact, it probably more readily available and cheaper to harness. 
When you consider how many people you know are planning or wanting to go to a festival anyway, combining a hen-party with something people genuinely want to do, is one of the easiest, fastest and most convincing ways to get people to commit financially without feeling 'put out'. 
It is also perfect for those that can't invest too much time. Most festivals have the option to purchase day tickets as opposed to weekend tickets, giving your guests control over when they come and go without missing out entirely. Added to this fact that some (not all, mind) festivals are relatively age-neutral means that your mother, aunties, and in-laws might even be keen to join in too, perhaps just not when it comes time to camp. 
And if you're worried that a festival hen party might get too rowdy, you can explore toned down versions that steer clear of the traditional expectations. Literary, film and cultural festivals can be found the world over with some of them taking place outside of the core summer months too. 
Tips for organising a festival hen party
Festivals all over the world are reaching peak attendance levels with some of the most popular ones selling out their first round of tickets in a matter of hours. What this means for you is you need to be quick. We suggest that you designate a few different people in the group to try buying tickets when they go online. Doing this will ensure that you can purchase enough tickets without exceeding the limit. It will also improve your chances of getting the tickets that you want. 
Entertainment is taken care of for you when you go to a festival but spending some time checking what extra activities are available isn't such a bad idea. Some festivals will have pre-bookable venues for food and drink, workshops and masterclasses that you might want to take part in.
Remember that everyone is there to have fun, but it is also about the bride. Try not to let the segmented nature of festivals split the group up if you don't need to be. Sticking together rather than slipping into a 'doing my own thing' attitude will ensure that the atmosphere is still very much 'hen-do' even if the setting is not. 
Most of the below festivals, you can camp or VIP camp if you want to make your hen weekend extra special.
Image courtesy of shambalafestival.org
UK Festivals to consider:
Glastonbury - Pop & rock - ££ - Glamping available
Reading - Rock, Alternative, Metal, Hip-Hop, & Dance  - ££ - Pink Moon Camping (luxury camping)
Leeds - Rock, Alternative, Metal, Hip-Hop, & Dance  - £ - Glamping available
V festival - Pop - ££ - Glamping available
British Summertime - Pop & Hip-hop - £ - No Camping available
Wireless - R&B - £ - No Camping available
Isle of Wight - Rock & pop - ££ - Glamping available
Creamfields - Electronic dance - ££ - Glamping available
Download - Heavy metal‎, ‎rock‎ & ‎punk rock‎ - £ - Camping available, but not glamping
Lovebox - Dance - £ - No camping available, day festival, London location
SW4 - Dance - £ - No Camping available, day festival, London location
Port Elliott - All genres, from DJs to live bands! They also do workshops, a comedy tent, and wellbeing exercises, therefore, you'd have plenty to do and never get bored! This is for a 'smoother' hen festival. - £ - Glamping available 
Wilderness - Indie, soft rock & pop - ££ - Glamping available
All Points East - All genres! - £ - No Camping available
Shambala - Rock, pop & folk - £ - Glamping available
We Are FSTVL - Dance & EDM - ££ - Glamping available
Eastern Electrics - All genres! - ££ - No camping available, day festival, London location
Image courtesy of Tomorrowland.com
Top European Festivals:
Tomorrowland, Belgium - EDM - £££  - Glamping available, all about the production. - £££ - Glamping available 
Primavera Sound, Spain - Indie rock - ££ - No camping available
Roskilde, Denmark - All genres! - £ - Camping available 
Super Bock Super Rock, Portugal - All genres! - £ - Camping available 
Hellfest Open Air, France - Heavy Metal - £ - Camping available
Image courtesy of Coachella.com
Our favourite Festivals further afield :
Coachella, California - Rock, indie, hip-hop, & dance. - Hippy vibe - £££ - Glamping available 
Pitchfork Music Festival, Chicago - Rock, indie rock, hip-hop - ££
The Governors Ball Music Festival, New York - electronic, hip-hop, indie, Americana, pop, & folk - ££ - No camping available 
Ultra Music Festival, Miami, Florida - Electronic dance & EDM - £££ - Glamping available