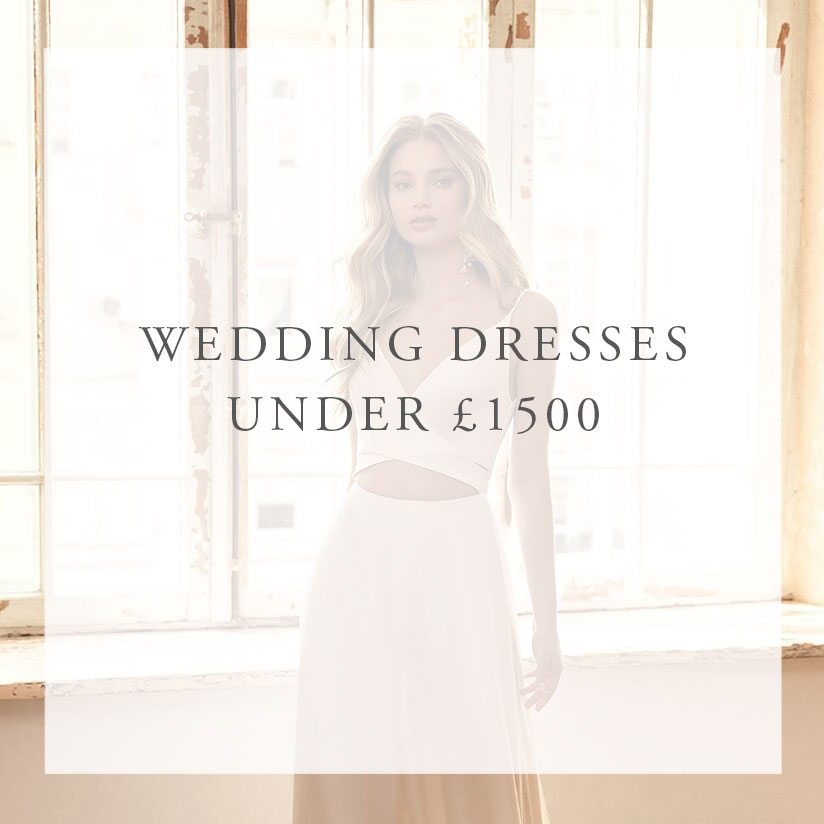 Wedding Dresses Under £1500
Beautiful wedding dresses don't have to take up most of your wedding budget. Some of our favourite styles come from smaller, independent designers with a keen eye for detail and a design aesthetic that is unique to traditional gowns. Whether you are looking for a boho-inspired dress or something more conventional, there are plenty of options you can consider without fearing the price tag. 
We have featured a round-up of our favourite wedding dress designers that sell designs for under £1,500 to help inspire you on your dress-hunting journey. 


1. Rime-Arodaky
This French design house has produced a variety of bridal attire ranging from gowns to two-pieces and pre- and post-wedding outfits. Rime envisions brides as liberated, sexy, edgy and modern and her designs seek to replicate this image. 
Her designs are sold directly on her website, through her Parisian boutique as well as on global platforms such as Shopbop and Net-a-Porter. Tailored gowns can be made with all alterations and fittings taking place in Paris, a perfect excuse to visit if there ever was one. 
Animal lovers among you will also be keen to know that Rime recently challenged a host of bridal boutiques and designers to pledge to be 100% cruelty-free, ensuring that no animals are harmed or mistreated in the design and manufacture process of the wedding garments they produce and sell. 
Prices from: £850 
Stockists: Direct at Rime Arodaky, Net-a-Porter, Shopbop 
Theme: The modern bride 
USP: You can create several looks with Rime Arodaky, which is especially convenient if you want to change throughout the day or plan outfits for other wedding celebrations such as the rehearsal dinner. 
2. Catherine Deane 
Catherine's designs take cultural references from her nomadic lifestyle having lived in Ireland, South Africa, London and Hong Kong. The dresses are a combination of old meets new, strength and fragility, striking modern design and simplicity. 
The designs are best suited for Spring and Summer brides with lace and sleeveless silhouettes playing a key design element in a lot of the dresses.  The laid-back aesthetic entices images of blossomed trees and ceremonies outdoors or in orangeries. 
Aside from bridal gowns, Catherine Deane also produces bridal separates, accessories including veils, sashes and belts as well as dresses suitable for pre-or post-wedding events. 
Prices from: £995
Stockists: Direct at Catherine Deane, select bridal boutiques in the UK  
Theme: Summer Brides 
USP: Catherine Deane's bridal separates selection is arguably more extensive than her bridal gown selection making this brand an ideal choice for creating a more bespoke look, opting for a mix and match finish over one that has been pre-put together. 
3. Needle & Thread 
Known for their embellished and embroidered ready to wear, Needle & Thread have branched into bridal gowns with a vintage meets modern look. While some designs have a romanticised nod to Charles Dickens' Mrs Haversham, others, particularly those with added colour, give brides an untraditional and whimsical vibe. To us, these designs are reminiscent of castles and fairytales, a dress that can tell a story. 
The bridal range from Needle and Thread is relatively new so you can expect to see the number of styles in the collection continue to grow and evolve with time. 
For brides struggling to find bridesmaids dresses in keeping with their own look, Needle and Thread provides a wide range of styles to choose from that will be in keeping with the theme without any risk of overshadowing the bride. 
Prices from: £550
Stockists: Direct at Needle & Thread 
Theme: Modern Vintage 
USP: These dresses influenced by the ethos of the existing brand err on the side of non-bridal making them a unique option for brides that want to go down the non-traditional route without compromising on a stand-out look. 
4. Grace Loves Lace 
Grace Loves lace, an Australian brand, pride themselves on being the designer for unique brides. Their French lace is manufactured exclusively for Grace Loves Lace in Calais by hand before it starts the journey back to Australia. 
The brand has made a determined effort to create a range of bridal gowns that are distinct from each other. Long sleeve, short sleeve, strapless, flowing and fitted gowns are available, making this brand a stand-out choice for brides that are keen to have a lace dress that veers away from the traditional kind. 
Their collection of dresses are touted as being comfortable, easy to wear and easy to fit, doing away with the traditional, structured gowns that are often commonplace in most stores. The inbuilt stretch components allow the dresses to be slipped on and off and for sizing to be more flexible, giving brides a new opportunity to take a deep breath on the big day. 
Prices from: $935 (Australian Dollars)
Stockists: Direct 
Theme: Bohemian Beauty 
USP: Unlike some other bridal brands, Grace Loves Laces sells exclusively through their online website, allowing them to pass on wholesale prices to their brides rather than having to apply boutique markups. 
5. White by Vera Wang 
The White by Vera Wang collection is perfect for women that want to opt for a full bridal gown, traditional in appearance and with an air of regality to it. The number of options is sizable, creating tonnes of choice for brides including dresses in a variety of materials (not just lace and tulle) as well as different colour groups. 
Vera Wang designed the collection exclusively for David's Bridal, making her signature dramatic style renowned around the world available for women at a lower cost than through her boutiques. The versatility of the range means that whether you have an indoor, outdoor, winter or summer wedding, there will be a style that is not only appropriate for your wedding theme but also one that you will treasure wearing. 
There is also a matching bridesmaid range available with between 18-36 different colour options to choose from, an easy way to ensure your bridesmaids' dresses are linking in with your overall colour scheme. 
Prices from: £400
Stockists: David's Bridal 
Theme: Traditional Bride 
USP: White by Vera Wang, has specific plus size styles for curvier brides ensuring a fantastic fit for every body shape and size. 
Aside from choosing smaller designers with lower price tags, there are other ways you can find the dress of your dreams within budget. StillWhite is a website specialising in the resale of preloved wedding dresses, featuring some of the most prominent name designers. This option may well allow you to find a dress ordinarily out of budget at a significantly reduced price. 
Alternatively, keep your eye on bridal sample sales that take place at lots of bridal boutiques around the country. It is a brilliant way to pick up a brand new wedding dress at a fraction of the price with some designers offering discounts of up to 80%. 
Finally, if you are design savvy, you may find a solution in designing your own dress, taking inspiration from your favourite dress designers. More brides are leaning towards having their wedding gown made by local seamstresses, having sourced the material they need themselves.