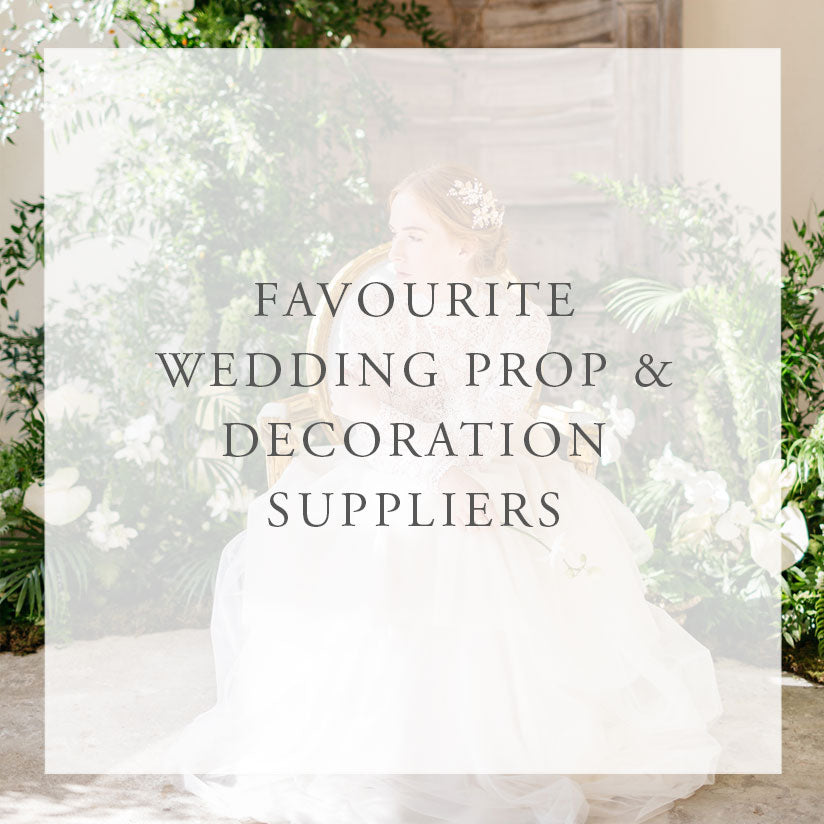 Favourite Wedding Prop & Decoration Suppliers
There are few things as exciting as designing your wedding and starting with a blank canvas where you decide on the atmosphere and tone for the day. You can lose hours on Pinterest collecting thousands of ideas to give you unlimited inspiration, but where do you find the people to bring it all together? We have brought you our favourite suppliers for props and decor in the UK to make your vision a reality with ease and efficiency.
Kate Cullen
Images from www.katecullen.co.uk
One of the most prominent areas of your wedding that will need styling are the tables. Kate designs and creates stunning hand-dyed silk ribbons and table runners to create and set the scene for the ultimate tablescape.
Kate's mission is to create beautiful things that will last a lifetime rather than just the day of your wedding. Her website features one of a kind 'treasures' that can transform table designs, display boards and standalone tables as well giving you pieces to take home with you to be enjoyed the rest of your married life together. These treasures have a definite vintage undertone, adding some old fashioned charm to the mood of your wedding.
Hall & Co
Images from https://www.hallandcoeventdesign.co.uk/
Hall & Co isn't just a destination for prop hire, it is also an event management service, styling service, caterer and florist. Their style ethos is free-spirited, organic and effortlessly cool. Everything they put together looks instantly as though it belongs there without looking generic or bland. Hall & Co claim that their clientele is made up of laid back couples who don't do things by half and it is easy to see why. Their prop catalogue boasts an array of sofas, dressers, mirrors, drapes, indoor and outdoor furniture that can give your wedding an individual personality and an aesthetic your guests would not have seen elsewhere. At the very least, their impressive range of case studies and content on Instagram can provide you with a tonne of ideas that exceed those found in your typical bridal magazine.
The Wedding of my Dreams
Images from https://www.theweddingofmydreams.co.uk/
If your focus for styling your wedding is on the more intricate details such as your table features and layout, then The Wedding of my Dreams is an excellent place to start. You can get lost down a rabbit hole of ideas perusing their range of vases, centrepieces, candle holders and cake decorations. This website is a brilliant solution for brides looking to delve deeper into the finer details rather than, the more significant ticket items such as furniture. The selection has an overall boho feel with rustic and weathered aesthetics combining with ornate detailing.


The Little Lending Co
Penny at The Little Lending Co has been curating her collection of unique furniture pieces since her own wedding in 2013. She has a background in fashion design with emanates through her beautiful range of items to hire and various packages. Penny's style has a dominant bohemian influence with the flexibility to mix and match pieces to make each wedding genuinely individual. The Little Lending Co's Instagram and portfolio demonstrate how seemingly ordinary pieces of furniture can be dressed up to completely transform a setting, perfect for brides and grooms that might be lacking in inspiration. Occasionally Penny lists items for sale on her Instagram that have been specially sourced and customised for other weddings, a fantastic way to pick up unique items at a low cost for your own wedding.



One Curious Dream
The range of props available from One Curious Dream is extensive and varied. Whether it is stands, lamps, tables, trunks or seating that you are looking for, this website covers all angles of prop hire for your wedding day. The furniture varies between boho chic and vintage glamour with wicker or plush velvets being the most dominant choices of those available. Aside from styling your wedding, One Curious Dream also has a wedding planning service too. Their website showcases 'real weddings' featuring their furniture and styling ideas, so you can trust they know precisely how to deliver on the day itself.
Styling your wedding day according to your theme can be one of the most fun parts of wedding planning, but it can also feel overwhelming with so much choice available.
Our best advice for styling your wedding is to create a mood board consisting of your favourite ideas before going through a process of elimination, keeping only the concepts you genuinely love and that can tie together seamlessly. This will be especially useful for any suppliers or companies you use to help style your wedding on your behalf and also come in handy for obtaining approximate quotes so you can add a rough cost to your wedding budget.
Some further reading on ethical weddings is also recommended here which can help in making decisions about reducing waste.
Lastly, choose a supplier that understands what you are trying to achieve and make sure you pay careful attention to the terms of any prop hire, particularly when it comes to potential damage, wear and tear, hire period, drop-off and collection.
While it may feel like you need everything on offer, remember that sometimes less is more and just a couple of stand out pieces can transform the room.