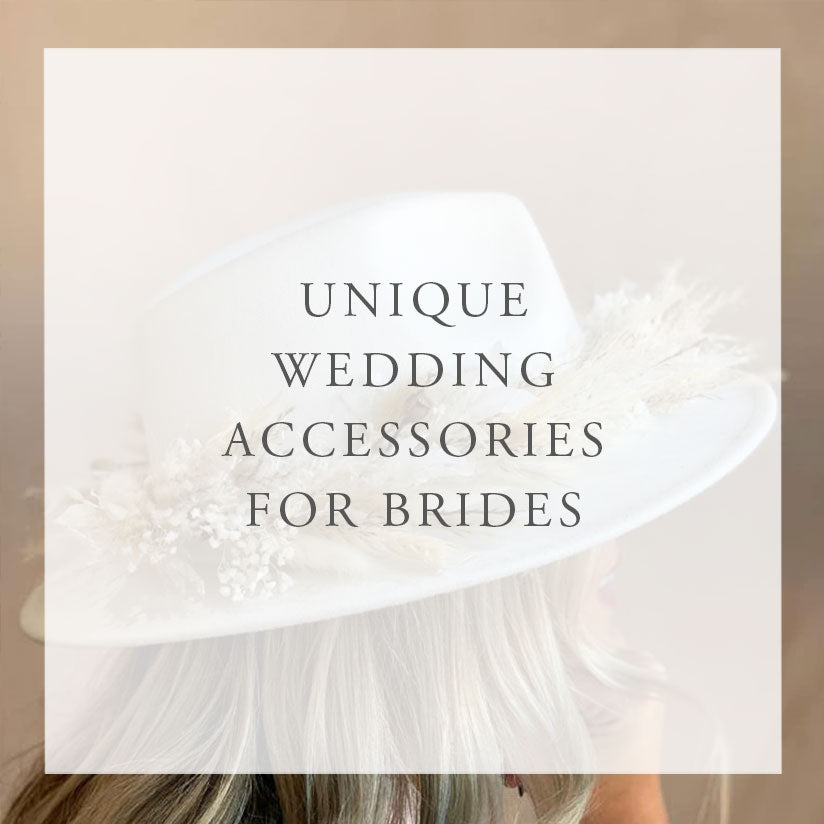 Unique Wedding Accessories for Brides
As weddings have evolved, it is fair to say that the way we dress for them has too. Hundreds of bridal designers are designing looks based on 'the modern bride', the 'boho bride' and brides that 'dare to be different.' The expectation that brides will arrive at the altar in white is itself no longer a guaranteed outcome. In celebration of all things unique, we have brought you a selection of accessories and styling options that will ensure you stand out from the bridal crowd.
HEADWEAR
Crowns and tiaras are no longer just for women choosing a princess aesthetic for their wedding day. Sharper contours and mixed metals instil an edgier look than your traditional tiara. Some of our favourite options are by the talented maker Tilly Thomas Lux. Not only does she have an array of spectacular choices online, but she also works on bespoke commissions.
Jewels don't just have to sit on a crown or your finger. You can also find ways to weave them into your bridal hairstyle by playing with slides, clips and headbands. There are no shortage of options if you want to veer away from sparkle and opt for pearl or flowers either. Jennifer Behr, an American based designer, has a stunning range of hairpieces and accessories that would house something worthy of your theme. You can find her pieces in the UK on websites such as Net-A-Porter and MyTheresa.
If you are interested in a headpiece that screams different, then Curious Fair may be your answer. Their products are incredibly whimsical, combining feathers, twigs and crystals to create a look that wouldn't be out of place in Alice's Wonderland.
And while brides have favoured flower crowns for many years, it appears that the trend is growing. Etsy has hundreds of flower crowns that are bold, colourful and for lack of a better word, big. Larger florals such as peonies enable brides to make their flower crown a much more prominent feature in their look.
Thanks to the support of social influencers and models, the use of hats has become a new and unique way to shun the traditional veil. Cowboy hats, fedoras, boaters and straw hats have all been seen in the bridal circuit. While they may be more suited to weddings in the mountains, countryside or beach, they also make an excellent addition to a registry office wedding look or elopement.
OUTERWEAR
In the winter months, it may be easy to find a bridal coat, gilet, cape or bolero. However, outside of these bitterly cold months, how can brides make their outerwear more unique? Wolf & Rosie individually personalise their hand-painted leather jackets for brides looking for a more rock and roll way of keeping warm in the cooler air. Without looking stereotypically bridal, you can wear this again and again after your wedding day too.
And if you are thinking of forgoing heels for your wedding day, there are more options than your standard pair of flat shoes. You can opt for a white pair of Doc Martens, or if you want to add an extra edge to your footwear, have the Doc Martens personalised and embellished. Again, Etsy boasts plenty of options for adding some sparkle to your boots.
Alternatively, Converse is another solution that is fantastically easy to personalise. From adding sparkle to the toe, 'wife' or 'husband' to the heel tag, changing laces for ribbon or adding your married name to the side of the trainer, the options are plentiful.
FACE
Depending on the theme of your wedding, or indeed, the location, you may consider adding sunglasses to your look. Easy to put on and take off, they can add to your overall style without taking over during the crucial moments such as the ceremony or pictures. Miu Miu has a great selection of sunglasses for brides to choose from. Crystal and pearl embellishments feature heavily across their variety of styles.
Plus, if you are worried about holding them, you could very easily opt for an accompanying clutch bag. Edie Parker has some bride-worthy solutions featuring tongue in cheek phrases while Shrimps' iconic pearl designs will add a touch of glamour. If you are looking for something on the more economical end of the spectrum, Notonthehighstreet.com have great options that can be personalised in hundreds of different ways.
In no way, an accessory, but perhaps a fantastic accompaniment to festival inspired weddings is the inclusion of some glitter in your bridal makeup. In Your Dreams provide nationwide glitter bar services where they can make you, your bridal party and your guests over in spectacular glittery fashion. A look like this could be the perfect late-night addition, giving you a complete transformation. Perfect for brides who want to party in the same dress but show something a bit different anyhow.
Whatever type of bride you want to be on your wedding day, know that there is a myriad of ways to be utterly unique, the first of which is just being you.