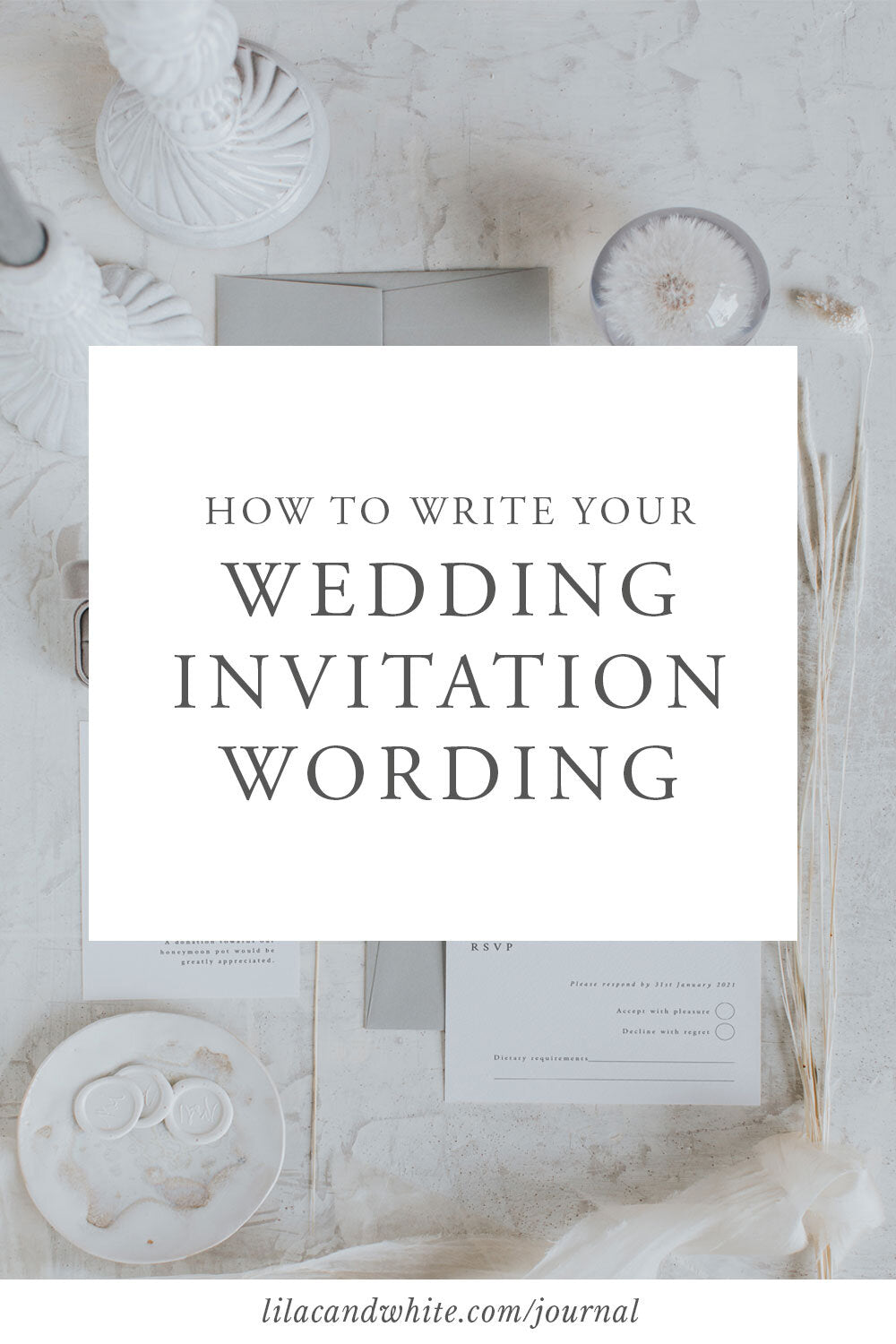 How to Write your Wedding Invitation Wording
Sending out invitations may sound like a simple process, but with weddings becoming more personal, less predictable and often more complicated, so have the invites. From formal text to something more light-hearted, here's a few pointers of what or how to include the correct text. 
The Main Invitation
Your main details take centre stage here. In most cases, you would include your names as the couple to be wed in addition to the date, time and location. 
There are many different phrasing options you can choose for your invitations. Historically, the text on a formal wedding invite is determined by who is hosting the wedding. For example, if it was the bride's parents are hosting the wedding, you may have wording such as;
"Mr and Mrs Charles Jenkins
request the honour of your presence 
at the marriage of their daughter 
Elizabeth  
to 
Harrison Green 
Saturday, the fourth of July
two thousand twenty at 
three o'clock
St Barnabas Parish
Dulwich, London
and afterwards a reception at
Dulwich Picture Gallery."
This format is easily changeable if you wanted to include the parents of both the bride and groom, just the parents of the groom, or another family member altogether. Generally, if the bride's parents were hosting the wedding, the bride's name would appear first on the invitation and vice versa. 
Alternatively, you may find that you would like your invitation text to take a more modern approach. In which case, you could opt for something like;
"Rebecca and Harry
request the pleasure of your company
at their marriage 
on Saturday 4th July 2020 at 3pm
at St Barnabas Church, Dulwich Village 
followed by a reception at 
Dulwich Picture Gallery" 
Other ways to change the tone of the invite include changing the request line to a phrase such as 'would love for you to join them' or 'invite you to celebrate with them.' Alternatively, you can swap the word 'marriage' for 'getting hitched', or 'tie the knot' to make it more informal and lighthearted. 
On the whole, invitations often look better with dates laid out in words rather than numbers, and in our experience, the main invite shouldn't be too fussy. Instead, it should be a convenient and easy reference point for guests. You can include additional details separately in the information card.
Information Card 
The information card is often overlooked but is (in our opinion) an essential staple in your invitation suite. Here, you will include practical details about travel (including full addresses with post codes or ceremony and reception), options to and from the wedding (including whether there is parking available or if you have arranged buses) and accommodation options and preferred rates if you have arranged them for your guests. 
On a more useful note for your guests, you can also provide more information about the dress code, children, gifts and important contacts on the day. Some guests may appreciate extra clarity around the dress code rather than just 'formal' or 'evening attire', you could make it more transparent with specific phrases such as 'summer cocktail attire,' or 'black tie.'
You may want to make it clear whether you are inviting children for the whole day or just the evening celebrations or just "babes in arms". The most common phrase used from all the invitations we have created in the past is "we hope you understand this will be an adult-only occasion, and hope this is an excuse to take the night off".
The most common ideas put in the gifts section is either a donation to the couple's honeymoon pot or link to their gift registry which will help guests select a gift they know you will love.
We recommend a section on useful contacts which will be helpful if your guests have any urgent questions on the day. If you are using a wedding planner, I would suggest you ask if you can include their details here. Other telephone numbers could include the venue or best man.
Images from our Elegance and Charlotte Invitation suites.

RSVP Card
Rather than including details of the RSVP on the main invitation, you may want to consider including an RSVP card that your guests can return to you. 
There are many options for RSVP cards. Still, we recommend covering important ground no matter what you choose. First, establish an RSVP deadline so that you minimise the amount of time spent waiting for a response. Secondly, ask your guests to include the names of everyone in their party that is attending along with their specific dietary requirements, food choices and which elements of the wedding they will be attending if there are multiple. 
Finally, you can make the RSVP card more fun by asking guests for a song request they can look forward to dance to during the evening entertainment. 
Sending your invitations is an exciting time, it means your wedding is getting even closer. Make sure you pick something that represents you and the style of your wedding. There are lots of examples on our website with different wording ideas and wording suggestions so have a browse here. All our invitations have lots and lots of matching on the day stationery so you can have that cohesive look right across your wedding journey. Have a look at our collections here. Good luck!