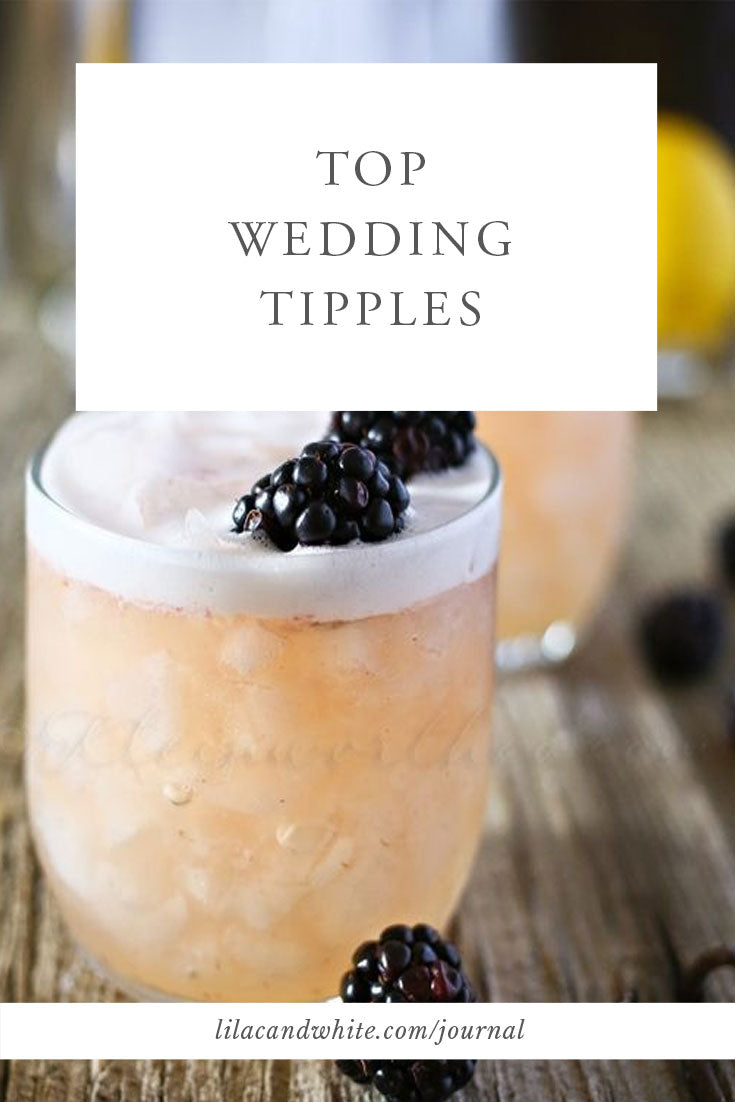 Whilst a cold and crisply delicious glass of champagne is the traditional welcome drink to serve on your wedding day, the idea of breaking away from this in favour of serving a personally chosen cocktail is becoming ever more popular. After all, who wants to follow the crowd? With the range of cocktails available becoming ever more creative this is a unique opportunity to really wow your wedding guests and create the perfect beginning to your big day, as well as the perfect way to tie your welcome drink in with your wedding theme. Below we have included some of our favourite wedding cocktails to inspire you as you select the perfectly crafted cocktail. Enjoy!
Lavender Gin Fizz
There's no denying that there is currently a huge gin craze sweeping through the nation and with more high quality gins available to buy than ever before, this is the perfect time to craft your perfect gin based wedding cocktail. A classic gin fizz cocktail is very similar to a Tom Collins and includes gin, lemon juice and sugar as the core ingredients. It is probably the best-known variety of the 'fizz' cocktails, which gained popularity in America, and subsequently the rest of the world, during the 1900s, and is the perfect mix of sweet and refreshing that is ideal for a spring wedding. A simple twist of lavender can really elevate this drink – add lavender syrup and lavender bitters for taste, and garnish with loose lavender leaves for a stunning finished effect.
Photo by Theresa Furey
Bellini
A small twist on an old wedding classic, the Bellini actually has a proud heritage dating back to Venice in 1934 when it was served up for the first time by in Harry's Bar by Giovanni Bellini. A mix of 2 parts prosecco to 1 part peach puree this is a lightly elegant drink that would pair perfectly with a summer wedding and is a perfect option if you prefer traditional glass of fizz.
Image via pinterest
Whiskey Sour
If you like the idea of having a separate cocktail for men and woman then you can't go far wrong with a Whiskey Sour as your male option. A timelessly classic drink, this will instantly make the drinker feel suave, cool and sophisticated. Made with bourbon, lemon juice, sugar syrup and (sometimes) egg white, this is one you can customise by picking your own bourbon and garnish. A maraschino cherry and slice of orange are the traditional garnishes, but why not break with the past and experiment with your own?
Photo and cocktail from Kleinworth & Co
Pink or Lavender Lemonade
Not every cocktail needs to have alcohol in and if you are catering for guests that drink or children, why not include a refreshing lemonade? You can experiment with different colours but pink and lavender lemonade always look so beautiful, and serving both together would create a fantastic mix of colours. For pink lemonade the addition of cranberry juice will give it that perfect pastel hue, and deliciously sweet taste, whilst lavender lemonade can be made by adding lavender syrup and dried lavender. 
Photo from eatyourselfskinny.com